Yesterday was Thursday which means social media sites were flooded with the traditional throwback Thursday (
#TBT
) hashtag. As usual, all sorts of people and social media users shared some of their favorite memories related to their favorite sport, news, hobbies, or other defining characteristics of their selves. Also as usual, the hashtag reached pretty outstanding numbers in terms of Tweet rates. As the day progressed, people were inspired by the #TBT posts of others and decided to participate too.

Courtesy of
Hashtag Analytics
Basketball was a big one this week as people recalled historic moments that took place during the currently operating NCAA tournaments and other events. Movie stars recalled some memorable moments too as they reflected on early projects or works they had a big influence on. Of course, many of these were inspired by the current events of their daily lives or by fan requests.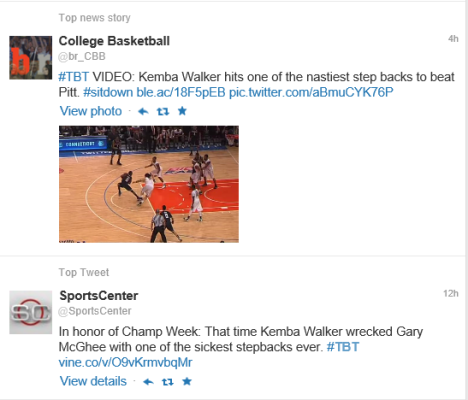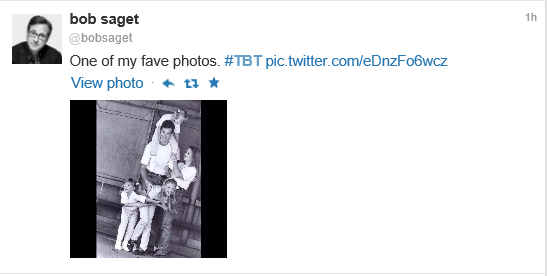 From politics to musical artists, everybody had memories to share. It's one of those hashtags that everybody can participate in just for fun. It could be a conversation starter or a way to be honest with friends, fans, and followers. This is a good way for people to gather new friends and fans or can be just a way to share some secrets or historic moments whether personal or well known.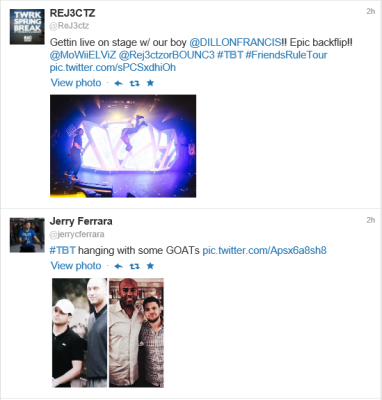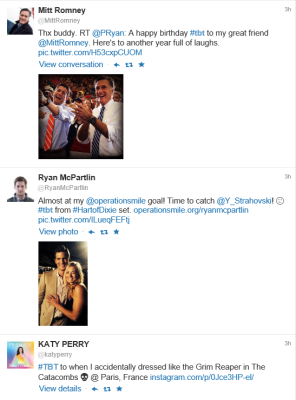 There were more than just celebrities and big organizations contributing to #tbt. While many can recall more famous memories, plenty of people wanted to share their own reflections from their life that not everybody knows about. This is what the hashtag is for anyway. While these people may not make their way into the top Tweets and posts, they give their friends and followers a chance to learn about their past history and get to know more about what made them who they are today.