After yet another outstanding episode,
#Empire
has kept up with its reputation. This week there was even an album released among several popular music catalogs featuring favorites from the show so far that fans could purchase and listen to. With such a dedicated fan base this early in the life of the series, there are sure to be more and more mentions of this hashtag in the near future. People were even already reminiscing about what next week had in store in a whole 2 hour episode.

Courtesy of
Hashtag Analytics
This week, #Empire continued to climb and rise all throughout the duration of the show. It wasn't until the ending in the last 15 minutes that the hashtag's popularity started to fall. This is a good sign that the episode captured the audience all the way to the end. Last week's episode saw a bit of a fluctuating trend during the show. Also, with a new episode came new related hashtags that described the events and scenes in the show. Characters had their big moments and plenty of attention was drawn to certain interactions.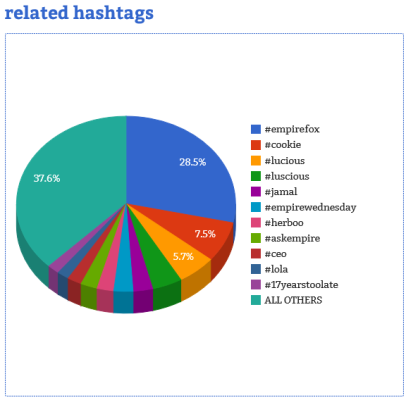 Courtesy of
Hashtag Analytics
Even some celebrities contributed to the popularity of #Empire as they were excited for their fans to see what was in store for them in the upcoming hour. As the hype was built and eventually satisfied, Tweets rolled out as much as over 120,000 Tweets per every 15 minutes, and that's just with the #Empire hashtag.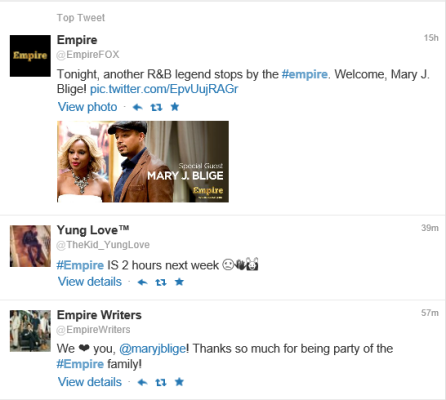 Never mind the fact that there was a renowned rhythm and blues artist among the cast this week, there was enough for every fan of the show and enough to entice new followers thanks to advertising across social media. Perhaps next week will feature even more surprises and a score of new songs that are sure to be instant hits.