#ToughQuestionsFromBarry Mocks Final #Debate Question
Vanessa Doctor October 18, 2012 0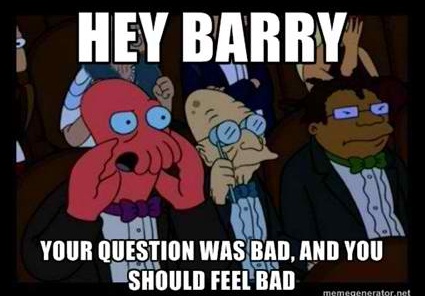 The presidential #debate on October 16, 2012 was held in town-hall fashion where undecided voters were given a chance to ask questions. The final question was asked by Barry Green.
He asked, "What do you believe is the biggest misperception that the American people have about you as a man and a candidate?" Green proceeded, "Using specific examples, can you take this opportunity to debunk that misperception and set us straight?"
Throughout the exchange, President Obama and Romney were putting each other on the line and showing whose plans would work better in different aspects and issues.
The question spurred both presidential candidates to baffling speeches that would hopefully make the undecided voters favor them.
Mitt Romney responded before moving on to his answer, "Thank you. And that's an opportunity for me and I appreciate it."
The Republican candidate continued, "My passion probably flows from the fact that I believe in God, and I believe we're all children of the same God."
He added, "I believe we have a responsibility to care for one another. I served as a missionary for my church. I served as a pastor in my congregation for about 10 years. I've sat across the table from people who were out of work and worked with them to try and find new work or to help them through tough times."
Obama also replied, "Barry, I think a lot of this campaign, maybe over the last four years, has been devoted to this nation that I think government creates jobs, that that somehow is the answer."
He continued, "That's not what I believe. I believe that the free enterprise system is the greatest engine of prosperity the world's ever known.
Online netizens quickly resorted to Twitter by creating the hashtag #ToughQuestionsFromBarry and shared their own funny questions that may hopefully stump either Obama or Romney.
The fact that Barry Green started his question with, "Hi, Governor. I think this is a tough question." triggered Twitter users to add more fun and humor to the entire trend.
Some of the posts involved far-fetched questions for the presidential candidates asking which Lady Gaga song would best describe them or if they would have put A-Rod on the bench.
Here's how #ToughQuestionsFromBarry fared on Twitter, peaking towards the end of the #debate.
Now let's have here some of the most catchy tweets bearing the hashtag.






#ToughQuestionsFromBarry was credited to American actor Wil Wheaton (@wilw), known for his roles in Star Trek: The Next Generation and Stand By Me.


So Barry botched his dramatic ending to the #debates. What would be YOUR tough question for the presidentiables? Tell us about it in the comments!
Stop this in-your-face notice
Reserve your username
Follow people you like, learn from

Extend your profile
Gain reputation for your contributions
No annoying captchas across site
Leave a Comment