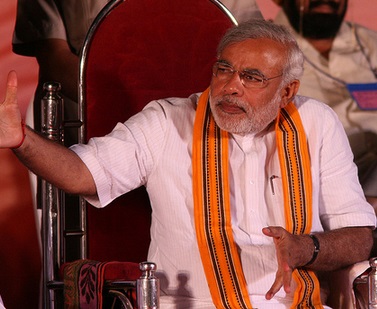 ??by?
?
Al Jazeera English
?
When Dr. Manmohan turned over his administration to the new Indian Prime Minister Narendra Modi, the official Twitter handle with over 1.24 million followers was not included in the deal. The former Prime Minister used the handle @PMOIndia garnered over a million followers throughout the tenure of Dr. Manmohan due to active updates and regular communications with Indian citizens. The new administration, however, changed the handle to @PMOIndiaArchive on May 20, 2014. So far, the account has over 9,000 followers. The Bharatiya Janata, Modi?s party, announced on Twitter that the @PMOIndia is a national digital asset that is managed illegally as the old and new?administration's transition. The party?s account commands 525,000 Twitter followers. The party tweeted through its official account
@BJP4India
on May 20, ?Continuity in governance and all government assets is the hallmark of Indian constitution. @PMOIndia is a National digital asset.? They added, ?it is ungraceful, unethical and illegal in the way outgoing team in @PMOIndia has handled the transition of this National Digital asset.?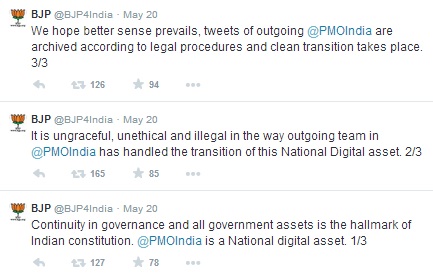 Social media experts hope that Modi can quickly increase its following, considering how the Prime Minister has over 4.2 million Twitter followers on her personal Twitter account. Until May 20, 2014, the old
@PMOIndia
account can be contacted
@PMOIndiaArchive
. Afterwards, the account will be archived and deactivated. Traditionally, political administrations in other countries have turned over their ?national digital assets? to the next, such as when David Cameron became the Prime Minister of the United Kingdom in 2010. Cameron inherited the Twitter account and its followers as well as changed the handle from
@downingstreet
to
@number10gov
to keep it in sync with his party?s campaign. It is still uncertain whether Twitter has existing or upcoming rules when it comes to political handles. The archive HTML export tool on the social media site allows tweets to be placed on a different website. All tweets on an official account page can be deleted upon a certain date.