??by?
?sarahstierch
?
Click on
#AskFarrakhan
on Twitter and you?ll be led to a Q&A town hall session with the head of the Nation of Islam. Louis Farrakhan (
@LouisFarrakhan
), Leader of Nation of Islam (
@OfficialNOI
), became busy using Twitter and other social media platforms to discuss matters and answer questions covering a variety of topics on Wednesday (September 26). Users forwarded queries on the topics like education, the ongoing US presidential campaigns, music, religion and media. Farrakhan launched the online question-and-answer activity using three of the most popular social media sites online -- Twitter, YouTube and Facebook.




This is the Nation of Islam leader?s first ever town hall meeting via social media.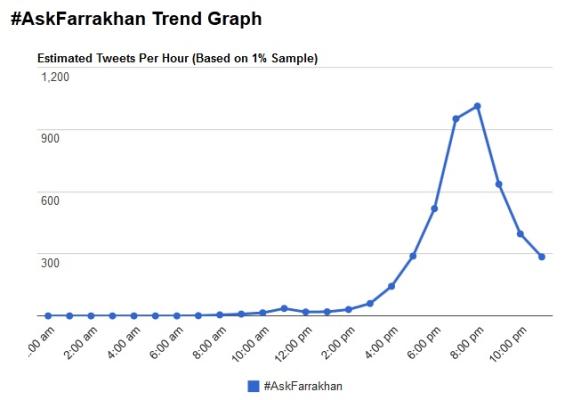 Courtesy of
Hashtags.org Analytics
Farrakhan is 79 years old and is well-known in the black and Islamic community as an influential leader. Many times he has been called an anti-Semitist and has been criticized before for referring to the Jewish community as the biggest controllers of the way black people function and think. In 1995, he headed the Million Man March which aimed to enhance the status of African-Americans in society. In 2008, Farrakhan was very supportive of President Barack Obama. He widely encouraged people all over the country to listen to Obama?s discussions calling them very relevant and substantial. However, his interest in the President has somewhat reversed in the recent months. The Nation of Islam leader was not so inclined toward how Obama openly endorsed gay marriage. He indicated that Obama is the first president who allows what is directly prohibited in the Holy Scripture. In 2011, Farrakhan also attacked Obama by calling the U.S. president an assassin, his statement stemming from the death of close friend Colonel Muammar Gadhafi in Libya. Activities from the #AskFarrakhan town hall meeting may be found
HERE
.