??by?
?Nerea Marta
?
You can change how your
Twitter
background looks beyond what the basic templates offer on the platform. When Twitter was in its infant stages, online users already had the option of choosing their own backgrounds and upload personal photos. They can pick any photo they want as long as these are not profane or offensive. People feel free to express themselves fully using the social media site. Having a customized background on the micro-blogging platform is done for various reasons, mostly to personalize and establish an online identity. Now, online users can partner with a range of Twitter background designers and use related do-it-yourself tools that will bring your profile to life.
Why Go For A Custom Twitter Background?
Some individuals like to stay generic and use traditional simplistic backgrounds or the same one they had since using the online site. But, going beyond Twitter, others who have the time and artistic skills to explore can try using the available designs and play with unique concepts. You can decide for yourself whether or not you like the final layout. Check out TV Line's custom background.

Building Identity
Some great reasons for making your own custom Twitter backgrounds include a unique way of personalizing and featuring your artistic side on the Internet. This introduces a rather radical approach to feature contact details both for artistic reasons and as a means to personally display your brand.
Establishing Your Business Brand
It's not always about business, although if you're trying to build a reputable presence online, it would be best to customize your Twitter page to have your clients identify with you better. Primarily, people use custom Twitter backgrounds so they can express themselves better and show what they are or their company is about. There are several images and digital works of art to choose from to describe your goals and the company culture.
Connecting With The Community
Sharing contact details online will also be easier and more attractive because the details can be added into the bio. Individuals within the graphic design and arts industry can utilize Twitter to extend the limits of their skills and showcase their relative interests and capabilities. Apart from that, the customization will also be ideal for individuals and groups who like to gain more followers. The background will effectively provide good branding to companies and groups.
Changing the Background 101
Head over to 'Settings' on the upper right corner of your profile or home page. Choose 'Design' then select 'Change Background Image.'

Browse into your computer files then pick the image you like to use as background. The limit is at 800kb so make the necessary adjustments before uploading. Choose the right dimensions to ensure that the background will be presented in the best manner. The full image is ideally 1200px high and 1600px wide. This is suitable for almost all screen resolutions. Creating a left-hand column will require you to use the proper dimensions too. The ideal size is around 200px to 235px. Upload the image then check if the presentation is good enough. There are different tools that will help resize the photo to reduce pixels, like Adobe Photoshop or Microsoft Paint.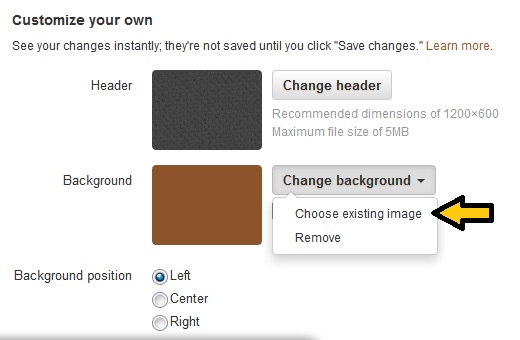 Apps for Custom Backgrounds
There are several applications on Twitter that will help online users upload custom backgrounds more quickly and efficiently.
MyTweetSpace
provides a simple solution to make a stunning Twitter background. Online users can easily provide graphics, use text and make badges. They can also make their own left-hand text columns and personalized backgrounds.
TweetStyle
is another great app that provides users with free templates and blog posts for the backdrop.
TwitBacks
provide templates that can be adjusted via Photoshop. To know more about what Twitter can do for your business, check out '
Enhanced Profile Pages
.'