??by?
?
Sam Howzit
?
Hashtags have been used by marketers and brands in many ways to create hype and gain their standing in the fast-evolving industry. Recently, JC Penney came up with the idea of giving special discounts to customers when they say the word ?hashtag? at the counter. Buyers then had to look ridiculous first before they could avail of $10 to $25 discounts at the store. Although some were game, others immediately referred to the recent stint by singer
Justin Timberlake and comedian Jimmy Fallon
at the latter?s show where they bashed social media users who used hashtags in almost every way. Although JC Penney may have creative intentions behind the hashtag campaign, many said that the brand may simply be making fun of people in exchange for a few dollars.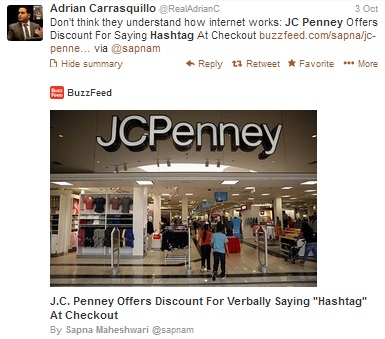 Hashtags can be very
powerful tools for marketing
when the guidelines are used properly. However, without proper research and a clear goal in mind, a number of companies has suffered by failing to understand the current trend and catering to social media users better. Other companies have been quite successful in taking hashtags to the next level such as credit card company American Express which introduced a
purchase-by-hashtag feature
. Using the new function, online users can purchase products being advertised on Twitter by using the corresponding hashtag. Cereal company Kellogg?s also came up with an actual Tweet Shop where customers can try various products then tweet about these to bring home some products. Here's a video showing how Kellogg's properly used social media to market itself in the UK. Many other brands are coming up with unique ideas to grab the attention of social media fans and increase sales and awareness through hashtags. It is best to review actual feedbacks and
study each hashtag campaign through analytics tools
to determine the next best move.