1. Define the target audience.
Who are you trying to attract? What is this person's customer profile? Before you start anything on Twitter, define first the the right demographic to target. You have to describe and understand the people to whom you should cater. Determine or designate the age, nationality, location, gender, educational background, specific interests and influence. You can better target the right customers if you properly define them. Your marketing efforts will then be focused on these individuals only. You can then start getting updates and create a sound marketing plan revolving around the target market.
2. Find influential Twitter users.
The influential users are those who have a lot of followers, particularly those who belong in the target group you previously described. The influence of these special Twitter users will help bring in more relevant users to your company. If you can get these key individuals to tag or follow you on Twitter, there is a big possibility of stabilizing your reputation and improving your overall status online.
3. Provide relevant content.
You can easily reel in the target audience by providing unique and original content that is not available elsewhere. Try to be the first to post important news and updates and get the right and accurate information from reliable sources. Tweet regularly and provide updates as necessary. Over time, you will referred to as a useful resource online and more people who are actually interested in your offerings will follow. Here's a comparison between a tweet that will get you new followers and one that will likely drive them away.


Which one do you think you're likely to follow?
4. Create Hashtags.
Create hashtags on Twitter that refer to particular subjects that will most likely ignite a huge response from your target audience. The objective is to create a venue where they can freely discuss matters and related issues pertaining to the main topic. Your job is to ensure that the conversation stays within topic and the hashtag trends well. You can gain hundreds or thousands of new followers that will solidify your position in the market if you create a successful hashtag. Make the hashtag easy to recognize and talk about relevant topics only. You can find out how the most prolific users of your hashtag are and try to gain their support of your brand of company. Most likely, these are the very people who will be willing to market you to their own networks for free. Using the Hashtags.org analytics tool, here's how it may look like on (for example) the hashtag #SuperBowl :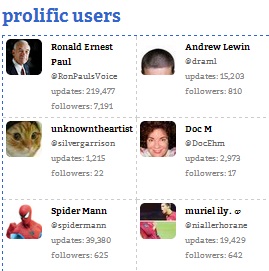 5. Tag and retweet.
Get recognized by important Twitter users by tagging and retweeting related posts. Interact with your target audience so that they can return the favor in other occasions. Invite people to events and hashtags. You can also tag and retweet posts or run online competitions which will spark the interest of the target market. Be quick to respond to posts and questions and give them accurate and content-rich details each time. Don?t forget to post fun and interesting tweets once in a while to show more personality.