??by?
?
misspixels
?
Guinness, one of the most famous beer brands in the world, launched an advertisement campaign and banked on social media to spread their brand further by creating the hashtag
#RoundUpYourMates
. It failed. Instead of supporting the campaign, many social media users took the opportunity to vent their frustrations over the product and shared how Guinness "lacked credibility." The hashtag was initially intended to invite customers, particularly loyal male drinkers, to share their positive experiences with the brand. Customers even went as far as describing the ad as ?painful?. According to Ed Pilkington, Guinness? marketing and innovation director, the social media campaign did not give back the results they expected. They are currently working with the problem and making comparisons with previous successful ads focusing on the slogan ?Made of More?. Their past campaigns were able to grab the attention of the target audience and kept the brand closer to loyal customers. In an interview with various media, Pilkington and his team said they are currently identifying the key problems that led to the negative feedback. They intend to improve the content and presentation for future projects. For the #RoundUpYourMates campaign, the lager marketing team had planned to improve significantly in terms of creativity, incorporating principles and methods from Diageo. However, Diageo admitted that they missed the mark.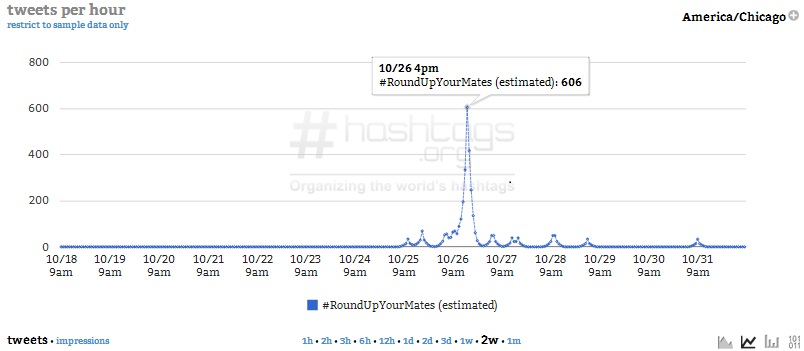 Courtesy of
Hashtags.org Analytics
For one, the message was not clear enough and the tone was not as appealing to the market compared to previous Guinness ads. Guinness continues to encourage its marketing teams to strive for a perfect score. Even though #RoundUpYourMates turned out to be a setback, it should not stop them from pushing the limits and maxing out their creative abilities.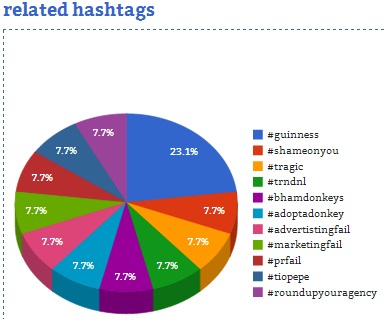 Courtesy of
Hashtags.org Analytics
Guinness at present is targeting younger crowds and coming up with creative advertising approaches that will hopefully spread their reach further across social media networks. Pilkington assures his marketing team that future campaigns will be more exciting.