Twitter
community account generally functions as a tool to discuss various matters with a certain language community. This is ideal for communities to stay updated and informed about specific topics that will relate well with their activities, background, and objectives. There are plenty of things to discover with community accounts. Although a community account is not known to be an official account, it also includes 'Twitter' which will inform you that it owns the account. A Twitter community account will also be operated by community members. These are actual users or moderators that are not part of Twitter. A Twitter community account will serve according to the specific language community it belongs to. There will be pertinent facts, data and information that will keep interested individuals informed throughout. The events and accounts can be followed by all parties. Moderators and managers of the Twitter community accounts can only discuss matters particular or relating to that specific community. Personal accounts cannot be advertised or promoted. The website will also not be responsible for whatever the account may include or contain. Overall, Twitter is the owner of the account.
The Official Twitter Account
Official Twitter accounts are made and managed from inside the organization of the company by hired employees and staff. The official Twitter accounts are included in the list by @twitter. See the @twitter list
HERE
. These are also Verified Accounts. The official account contents will be managed by Twitter, and the company is responsible for whatever is included in the account.
Knowing an Official Verified Account
Any account with the blue
verified badge
is considered as official and verified. This should also be present on the profile page. If you wish to identify an official verified account from others, you have to look for the verified badge at the upper right part of the profile page of the user. This is visible just over the name, location and bio.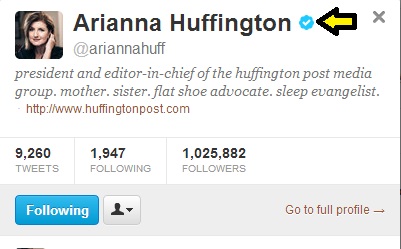 The verified badge might be present on other parts of the profile page of the user, although it automatically means that it is not a verified account. The badge cannot easily be used unless authorized or given by Twitter. False usage of the badge can result to suspension. The verified badge will also be visible beside the usernames when people search on the website. The badge also has the same color regardless of customizations that users might make on the background.