Twitter
?is primarily meant to be a massive information distribution channel where content shared is largely user-driven. This means that the moment you
sign up
, you get to decide what to share and when to share it with your
followers
. You can choose to be part of a certain
twitter list
?or group that revolves around a specific topic of your interest, or you can join
tweet chats
?to directly engage with thought leaders and other users with the same interests as yours.
Curated The Way You Want It
Then comes Tailored Suggestions, which Twitter introduced to help users further personalize their social media experience. Tailored suggestions make reading through a horde of tweets easier and faster for the user because now what you will see on your timeline are only the tweets, media, conversations and
links
that you enjoy viewing. How does this happen? Twitter tailor fits the content that appears on your timeline based on who you follow and the types of websites or content you read online.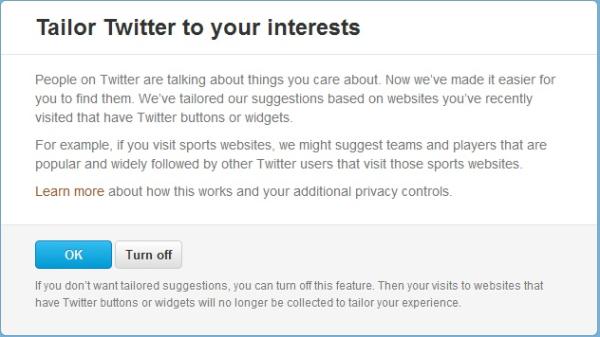 If the site you visit has an embedded
Twitter button or widget
, Twitter takes note of it in the back end so that the next time you browse your timeline, you will see only the posts related to what you frequently visit. In addition, Twitter also suggests people who are frequently followed in the community by other users who visit the same websites where you go. You'll see these in the Who To Follow sections on the Discover and Home pages.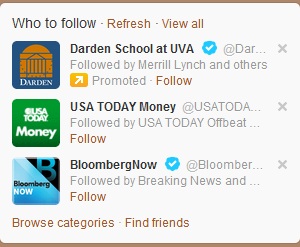 Twitter is tailor-fitting your home page to show only the things that matter to you. Note: The platform has also introduced a new content curation feature where you get to see snippets of articles shared by your followers. Read more about
Discover
.
Turning Tailored Suggestions Off
By default, Twitter turns on the Tailored Suggestions feature upon signup. You will see a check mark on the box beside 'Tailor Twitter based on my recent website visits' when you click the Me (person) icon on the upper right hand corner of your home page and choose Settings. Here's what it looks like.

When you log out of your account, Tailored Suggestions stops automatically until you log back in.
Note:
Tailored Suggestions monitors sites within the Twitter ecosystem that frequently followed by you or other like visitors in the last ten days. While it may suggest various sites and users you might be interested in seeing or following, it has also taken measures to protect against suggesting accounts that may be inappropriate or sensitive.