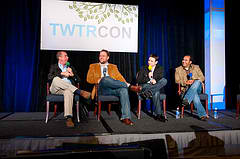 ??by?
?vincentgallegos
?
The international scope of
Twitter
?creates a huge opportunity for businesses to bring their message out to the most number of people in the least amount of time. Businesses and brands can effectively utilize the power of
hashtags
?to increase exposure and expand their networks. The best part is, Twitter is a free tool so you don't have to spend so much for your marketing efforts. Read more about the power and
influence of hashtags
here. Using social media as a way to promote your business is sustainable because practically everybody is online these days. By associating with the right online network, you can make full use of your resources while reaching your actual target market. Here are some of the more popular business related hashtags where you can start. These hashtags will either lead you to a network of Twitter users in the same industry as you are, or simply introduce you to like-minded individuals with whom you can share insights with and learn.
Top Hashtags For Business
Now that you know where to begin building a network for your business, perhaps it's time you start a hashtag chain yourself. Read all about starting a hashtag for your business here.
#bizforum
#Blogchat
#BrandChat
#business
#collaboration
#consumer
#CustServ
#CXO
#DIYchat
#ecommerce
#economy
#entrepreneurs
#HBRchat
#InfluenceChat
#Innochat
#innovation
#jobs
#KloutChat
#leadership
#Legaltweetmeet
#LinkedInChat
#luxury
#management
#marketing
#MMchat
#networking
#nfiblive
#ProdChat
#restaurant
#retail
#sales
#shoplocal
#SmallBizChat
#smallbiz
#SmallBizSat
#smbiz
#SMChat
#SMManners
#smmeasure
#SMOchat
#socbiz
#SocialChat
#SocialMedia
#startups
#tax
#webmarketing
Do you know of business hashtags that are not on this list? Let us know in the comments!