??by?
?Therese Yarde
?
As the festival of lights approaches in India,
Twitter
makes sure people have a venue to get together virtually with a dedicated page. Twitter is frequently used by groups and organizations to promote events and focus people?s attention to particular causes and issues -- and festivals are no exception. Recently, the micro-blogging site has been requesting users to join and share some of their own thoughts as the annual Festival of Lights in India, also known as
#Diwali
, draws close. A special page has been made by Twitter especially for Diwali where people can share information on this the special cultural celebration.

There are also a variety of hashtags created by online users which pertain to the Festival of Lights, the most popular among which are #Diwali and
#MyLights
. Diwali is celebrated by hundreds of millions of Indians every year regardless of their location. The traditional festival represents the victory of good against evil. Good is signified by firecrackers, lamps, candles and candies.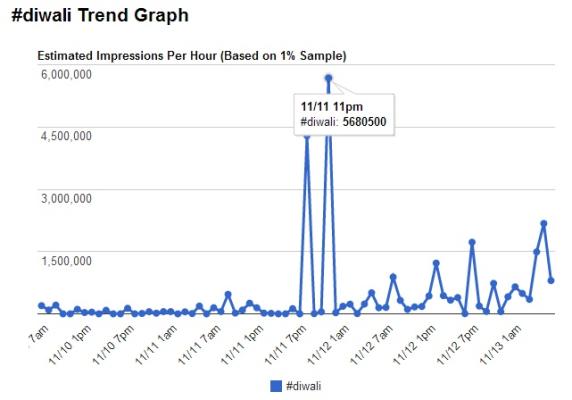 Courtesy of
Hashtags.org Analytics
The #Diwali events page is a great venue where Indians and foreigners located in different parts of the country and the world can come together and share meaningful posts and conversations. Using the hashtag #MyLights will also lead people to the page. Individuals are invited to share photos of their lights, as well as post good wishes to others online. Here's the activity so far on #MyLights.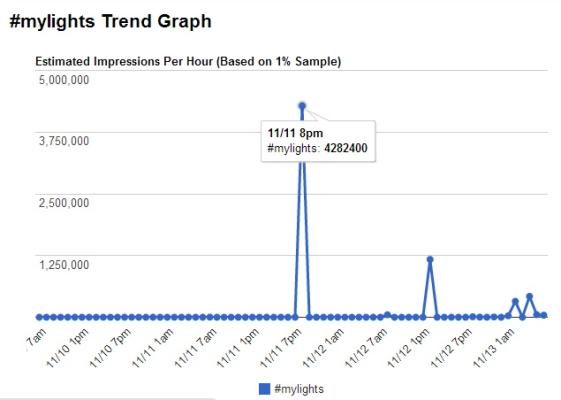 Courtesy of
Hashtags.org Analytics
With over 1 billion people living in India, the Diwali Twitter page is expected to trend very well. The Festival of Lights is traditionally celebrated for 5 days, thus, the page is expected to have a number of politicians, celebrities and other influential religious and political leaders tweeting 24/7. The previous year, #HappyDiwali was created on Twitter which also trended well. This year's hashtag is a great opportunity for Hindus, Christians, Jews, Muslims and even atheists to come together and enjoy viewing the fireworks and light displays from different parts of the globe.