Twitter
users to use the hashtag
#StarWarsFiscalCliff
to inject humor into an otherwise serious national financial issue. The fiscal cliff is comprised of tax increases and spending cuts amounting to $1.2 trillion and is set to become effective on January 1, 2013, or after the tax strategies initiated by former President George W Bush end on December 31, 2012. Why a perceived gridlock? Control over the US Senate was retained by the Democrats on November 6, 2012 with the re-election of President Barack Obama. However, as Republicans were still able to keep a good number of seats in the government, the balance of power in Congress remains, with Democrats holding the Senate and Republicans retaining control of the House of Representatives. Analysts speculate that the gridlock could mean there might be minimal or no changes at all in spending cuts and expiring tax cuts since the same people who could not come up with plans and deals in the past few years are the very same ones seated today. Leave it to Twitter users to use humor and sarcasm toward a better understanding of this gridlock by referencing the American epic film Star Wars. The hashtag #StarWarsFiscalCliff was then born. Here's the activity on the hashtag at its peak.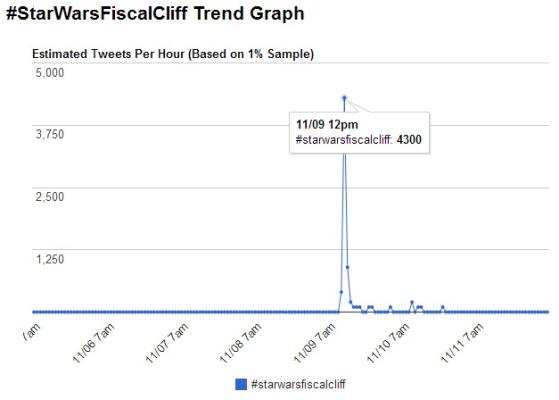 Courtesy of
Hashtags.org Analytics
Let's have a look at how the Twitterverse responded to it.





Did you find the hashtag relatable? Tell us in the comments!