Twitter
account. The Vatican announced that the Pope has chosen
@Pontifex
to be his new handle. For several weeks, online users have been trying to guess what the head of the Roman Catholic Church would pick as his official username in the biggest micro-blogging site. Overall, a lot of people approved of the handle and found it very fitting. ?Pontifex? actually means pope or bridge builder. According to the Vatican, @Pontifex will begin sending out Tweets on December 12, 2012. The Catholic head, for his initial tweet, will be answering a question regarding his faith. Any person on Twitter can send questions for the Pope to answer. The hashtag
#AskPontifex
has also been created as an avenue for people to forward their concerns and questions regarding the Catholic Church and to get to know the Pope more. Here's the activity on the hashtag, so far, although more tweets are expected to be sent the moment the Pope begins posting messages.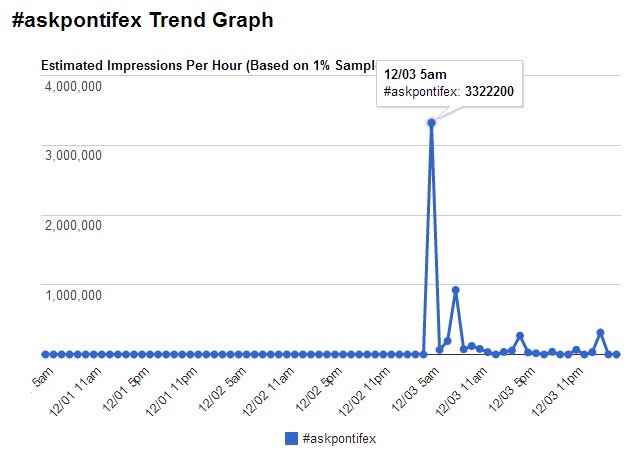 Courtesy of
Hashtags.org Analytics
However, with the type of tweets being directed at the Pope even before he officially begins, many observers believe that the church leader will get more than what he signed up for.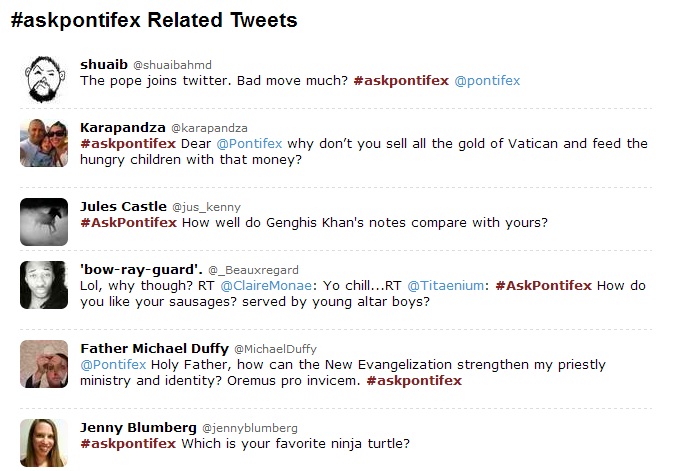 Courtesy of
Hashtags.org Analytics
In 2011, Pope Benedict tweeted using the handle
@news_va_en
, which is the Vatican news site?s Twitter account. Pope Benedict joining Twitter shows how social media has embraced different facets of human life. It is also a good showing that the Catholic Church adopts with evolving communication channels to address issues using the best platforms available.