#Sharkpocalypse
was also created to drive shark fans into a specific venue on social media where they can talk about the deadly animals. Shark enthusiasts and experts can talk about the many theories surrounding how humans can actually be the reason for the rise in shark attacks. Viewers of the TV show can immediately use the hashtag to share the details and post comments.
#Sharkpocalypse
Here's how #Sharkpocalypse looks to date. See how engagement builds up and peaks at August 14, 4:00PM and then starts to mellow after an hour. By looking at the most prolific users, we also observe that many of its biggest social media fans are from the U.S..
#SharkWeek
topping the list.
Hashtags and TV
Recently, studies have shown that there is a direct correlation between TV viewing and social media use. Hashtags particularly focused on a particular TV show can help increase TV ratings and vice-versa. #SharkWeek even managed to trend.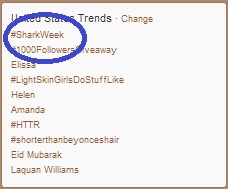 More social media users also engage in conversations or use hashtags while or after watching episodes of specific TV programs. Because of this, more TV shows are coming up with hashtags to create hype and get responses from users. Since Discovery Channel has been programming sharks for 25 years, social media engagement can be beneficial on how it can continue to improve its features. Assigning #Sharkpocalypse to accommodate a specific conversation is a good start and establishing #SharkWeek ensures that there will be a solid venue for discussion in the future.