Christmas involves plenty of setting up of decorations and treats, but that also means that there is going to be plenty of room for messes around the house. From simple liquids to arts and crafts (yes, that includes glitter as the hashtag's creator points out), the
#HolidayShine
hashtag was started to promote some new cleaning products perfect for the Christmas cleaner.


The Twitter user/company?@Smiley360?has a reputation for starting "Twitter Parties"?that range from advertisements to random fun hashtags. ?Regardless of which type of hashtag,?the results are usually pretty fun and almost always gain momentum to become one of the top trending hashtags as seen with #HolidayShine.

Courtesy of
Hashtag Analytics
The hashtag gained its popularity early in the day with a few giveaways/contests included to help it gain followers. Giveaways mostly included the advertised products which included helpful Christmas clean up items such as spot remover for stains or mops and cleaners for glitter across hard floors.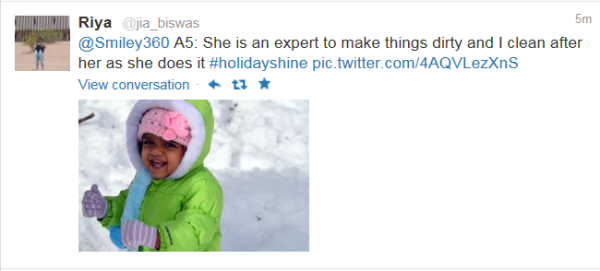 The hashtag kept its trending status for about as long as the contests were held. Being related to the Christmas holiday, it gained plenty of followers because of the simple wording. People Tweeted about their shared feelings with the marketers about how their holiday should be spent and how the products would help them greatly afterwards. While there were only a few winners, everybody agreed about the hassle of cleaning up and the importance of keeping things clean to maintain a #HolidayShine. The?hosts of this hashtag party were?very quick to respond to their followers and participants in order to keep?#HolidayShine a solid?trend for its lifespan. Though it was short, it generated a nice bump?for a couple hours and had people talking and discussing things they love?doing. As usual, Christmas time is the perfect?time to advertise a product and?help bring people together?at the same time.