With the Christmas season upon us, what better way to celebrate than with a Twitter game? This week social media saw the creation of a Christmas themed Twitter game involving the hashtag
"#XmasAMovie
". While there may be plenty of other Christmas movies already, it's another thing to?change a non-Christmas title into something more festive. This isn't the first time in the last few weeks that a movie-based Twitter game was started, but it's very fitting that this week would incorporate the holiday. With social media being a perfect place to celebrate and share ideas, this hashtag became a big trend pretty fast.

Courtesy of
Hashtag Analytics
The trend saw a pretty big spike right after being started as it was first posted and then promoted by?the popular Twitter?account @Midnight. As with most Twitter games, there weren't too many related hashtags. Most that were associated with the game were typical follow-back hashtags or other popular hashtags at the time, but these weren't used to?compliment the hashtag. Still, tens of thousands of people across social media participated and made #XMasAMovie the most trending hashtag?until its sharp decline. The graph above shows how the hashtag still kept a few thousand Tweets per hour even after this large decline.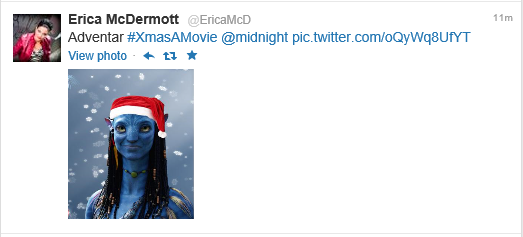 People got quite creative in choosing their titles. Some even went to greater lengths and decorated their own scene that would incorporate a Christmas theme in the movie. There were plenty of great ideas and plenty that were based off of the same movie or series, showing how creative social media users could be during this festive season. From science fiction to horror or drama, there were plenty of ways to transform the title into one with a little more Christmas spirit.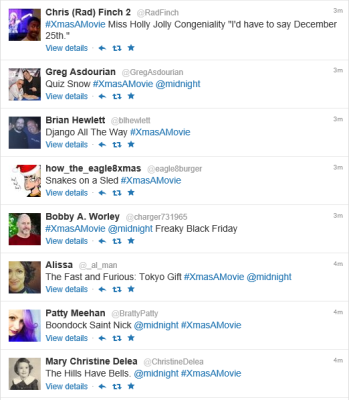 There were too many good ideas to fit on one page. But that's what the Christmas season is all about anyway: filling everything with as much joy and cheer as possible.