??by?
?
Gage Skidmore
?
The promoted hashtag
#EdgeofTomorrow
was launched to increase the hype among moviegoers. The conversation started trending well on twitter after trailers of the film was released, featuring Hollywood stars Tom Cruise and Emily Blunt in an action story where aliens lay waste to the planet Earth. The hashtag involved several photos from the movie, displaying the characters in their futuristic bodysuits and wielding state-of-the-art weapons to battle an advanced race. Social media users started retweeting the posts from Warner Brothers, which included official trailers as well as interviews. Schedules for the premier showings were also shared in other social media sites, increasing the anticipation of Cruise and alien fans. The hashtag #EdgeofTomorrow provides the advantage of spreading information to both film viewers and social media users. In a Nielsen study, there was a strong correlation discovered between television watchers and social media users. People refer to social media, particularly hashtags to talk about the current and latest episodes as well as provide their own comments and suggestions on how they intend the storyline to go or characters to turn out. In the same manner, using promoted hashtags has been very beneficial for marketers of the movie to let more people become aware of the dates of showing by providing previews on certain parts of the movie and allowing people to talk about these in advance as well as share their anticipation and feedback weeks before the actual showing.

Courtesy of
Hashtags.org Analytics
A promoted hashtag like #EdgeofTomorrow increases visibility and helps people remember to watch the film, thereby boosting sales and the popularity of the cast before the movie is available on theatres. It is a type of marketing technique that functions like a billboard, poster or television or radio advertisement to lure more people into actually watching the movie. Also, the creators of ?Edge of Tomorrow? used the hashtag to launch a social media contest, offering free tickets to participants.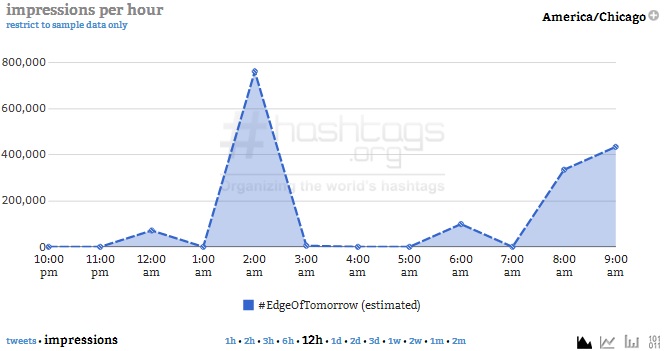 Courtesy of
Hashtags.org Analytics
Different marketing techniques can be incorporated into the actual promoted hashtag to reach a wider audience. It is a quick and convenient approach to maximizing the potential of the film and boosting overall ticket sales. People can get the essential information to determine whether or not to watch the film and how others feel about the movie even before it comes out. The marketing?team of the film does not have to use a variety of tools and increase their budget to target more relevant moviegoers. Instead, they only have to focus on the promoted hashtag and maintain the hype in the next few weeks until the movie releases.