Twitter
users who are also sports fanatics. Twitter is one of the biggest social media websites that allow people to follow thousands of others and get updated with their lives on real-time on the Internet. One of the biggest advantages is being able to get close to your favorite stars and celebrities. Fans can browse photos and find out what their favorite actors, rock stars or models are up to as they happen. What's better, majority of the profiles of these public personalities are easily accessible. All you need to do is click the 'Follow' button and you get front seat access to your icon's professional and personal life. Sporting fans need not go far to have a direct conversation with their idols. Here are 40 of the sexiest sports stars on Twitter you should add to your 'Following' list.
40 Sexiest Female Sports Stars on the Twitterverse
1. Priya Desai (
@priyadesai
). Priya is the beautiful sports reporter for NY1 News. Her exotic looks and impressive technical know-how have drawn her fans from all over the world. 2. Dara Torres (
@DaraTorres
). Dara is an American Olympic swimmer. Her rocking body and fresh face denies the fact that she?s 45 years old. 3. Grace Deissroth (
@grace_deiss
). Grace is an ice girl for the Philadelphia Flyers. 4. Sabine Lisicki (
@sabineliscki
). The German tennis player has been receiving a lot of attention lately, what with the two WTA singles tournaments and one doubles tournament she won in 2011 alone. 5. Sanya Richards-Ross (
@SanyaRichiRoss
) is an American Olympic track and field athlete. Aside from winning an Olympic gold medal, she is also dubbed as one of the most stylish athletes around. 6. Katie Riznyk (
@KatieRiznyk
). You may find Katie very familiar since she used to be a cheerleader for the Buffalo Bills. 7. Julia Mancuso (
@JuliaMancuso
). The American Olympic alpine skier made her World Cup debut in Colorado on November 1999 at the age of 15. She is credited for having the most number of Olympic medals for a female skier. 8. Heather Mitts (
@heathermitts
). Heather is a soccer player married to St Louis Rams quarterback A.J. Feely. 9. Alexis D. Augusto (
@AlexisDAugusto
). Alexis used to be a cheerleader for the Dolphins and an ice girl for the Panthers.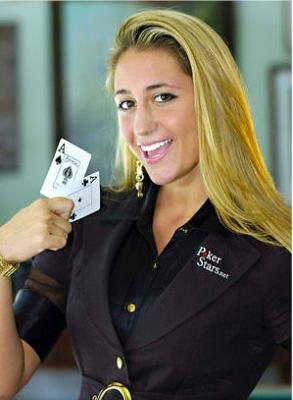 www.vanessarousso.com
10. Gretchen Bleiler (
@GretchenBleiler
). Gretchen is another reason why men constantly swoon over a woman playing a supposedly man?s sport. She?s an Olympic snowboarder. 11. Vanessa Rousso (
@VanessaRusso
). She?s a professional poker player known by her Pokerstars online handle Lady Maverick. She is French-American and studies law at the University of Miami. 12. Miesha Tate (
@MieshaTate
). Miesha is a mixed martial arts fighter. 13. Natasha Wicks (
@natashawicks
). She used to be a ring girl for the UFC but recently transferred to Invicta. 14. Jenny Dell (
@JennyDellNESN
). The beautiful Red Sox reporter for NESN makes losses more bearable for fans. 15. Lindsey Vonn (@lindseyvonn). Lindsey is an Olympic alpine skier with the US Ski Team and has won four overall World Cup championships since her career started in 2000 at the age of 16. 16. Eve Torres (
@EveMarieTorres
). Eve is a WWE diva and has frequently appeared on several TV shows and events. 17. Kate Osman (
@Kate_OsmanLFL
). This blonde is a former cheerleader for the NFL and a Lingerie Football League player. 18. Jaime Maggio (
@jaimemaggio
). Jaime is an anchor for the NFL Network and FOX Sports West. 19. Ashley Ferrara (
@AshleyFerrara
). Ashley is the Playboy Girl of Golf and MMA ring girl.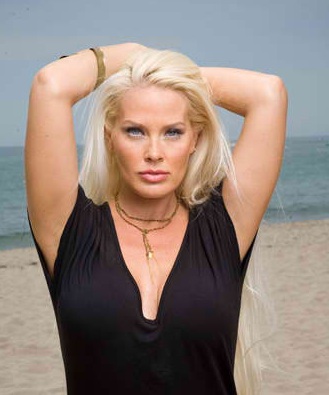 www.genevievechappell.com
20. Angela Rypien (
@AngelaRypien
). The beautiful brunette is a quarterback for the Lingerie Football League and daughter of former NFL quarterback Mark Rypien.?21. Brittney Schram (
@DCC_Brittney
). Brittney is a cheerleader for the Dallas Cowboys.?22. Mercedes Terrell (
@mercedesterrell
). Mercedes is a Bellator ring girl. 23. Genevieve Chappell (
@genevievec
). Genevieve is a TV host and widely known for her fondness of cars. 24. Rachelle Leah (
@Rachelle_Leah
). She?s an octagon girl for the UFC. 25. Arianny Celeste (
@ArriannyCeleste
). She?s a UFC ring girl and is one of the most popular and sexiest models today. 26. Alana Blanchard (
@alanaRblanchard
). Alana is a professional surfer. 27. Adriana Lima (
@AdrianaLima
). The Victoria?s Secret angel is one of the biggest supermodels in the world. She belongs to sports' sexiest being wed to Serbian basketball player Marko Jaric. 28. Jenn Brown (
@ESPN_Jenn
). The blonde beauty is an ESPN broadcaster. 29. Stephani Rice (
@ItsStephRice
). She?s an Australian Olympic swimmer. 30. Kate Upton (
@KateUpton
). One of her most famous shoots include being cover girl for Sports Illustrated Swimsuit Edition.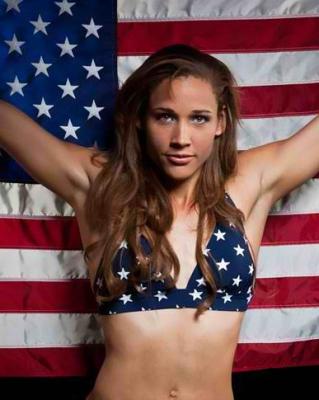 www.runlolorun.com
31. Corissa Furr (
@CorissaFurr
). She?s an MMA ring girl. 32. Brittney Palmer (
@BrittneyPalmer
). The part-time artist is a UFC ring girl. 33. Lolo Jones (
@lolojones
). She is an American Olympic hurdler. 34. Jaime Edmondson (
@jaimeedmondson
). Jaime used to be a Dolphins cheerleader but is now a sports personality and WAG. 35. Jade Bryce (
@thejadebryce
). Jade is a Bellator ring girl and is known for her humanitarian work. 36. Sarah Spain (
@SarahSpain
) Sarah is a host for ESPN Chicago. 37. Liv Boeree (
@LivBoeree
). Liv is a pro poker player, TV presenter and model from the UK. Her nickname is The Iron Maiden. 38. Alex Morgan (
@alexmorgan13
). She?s a pro soccer player: a forward for the Seattle Sounder Women and member of the US National Women's Team. 39. Erin Andrews (
@ErinAndrews
). The famous FOX Sports used to work with ESPN. She?s said to be one of the most beautiful faces in sports. 40. Serena Williams (
@serenawilliams
). Serena is one-half of the amazing Williams twins. She?s a professional tennis player.