#AlJazeeraAmericaTVShows
was also launched on Twitter, Facebook and Tumblr to advertise the new show on cable, aside from full-page postings on newspapers like USA Today and The New York Times. The channel can be viewed by over 40 million homes. Social media sites had several conversations based on Al Jazeera America?s launch, talking about how it will be received by American viewers. Despite promises by the network that it will be offering more in-depth news and information, as well as covering grounds like never before, there were apprehensions on the part of potential viewers and social media users. The hashtag
#AlJazeeraAmericaTVShows
became a gathering point for people to share their issues and concerns about the latest release and how it would impact American viewers.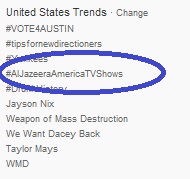 To date, it has generated a total of 27,800 tweets and 63 million impressions.
#AlJazeeraAmericaTVShows
also became a melting pot of political activists, anti-liberals and even racists. Many were tweeting jokes and simply poking fun while others were more serious in saying that it could widen the rift between Christians and Muslims or America and the Middle East. Some shared that the channel was basically racist and offensive especially to the Muslim community. Others used the hashtag as an opportunity to attack President Obama and his liberal methods. Here are some of the related hashtags used with the tweets.
#AlJazeeraAmericaTVShows
.