For the last few episodes, there have been some big moments for
#TheWalkingDead
fans. However, it is easy to tell that this week had many more exciting moments than usual as the hashtag returned to the top of the list of most trending hashtags. Of course, the most popular hashtags were once again repeated Tweets about voting for a certain band or artist or about retweets and gathering followers. But with Sunday night comes a brand new episode of #TheWalkingDead which means excitement, action, and drama for fans across social media. As soon as the show went live, fans instantly showed their excitement through social media.

Courtesy of Ha
shtag Analytics
While #TWD usually captures most of the attention, #TheWalkingDead took over this week. There could be many reasons why but fans don't seem to notice as long as they can discuss their favorite show with other fans across the internet. Of course, there were more than just these two hashtags, and most were about the show in general with a few about significant events in the episode.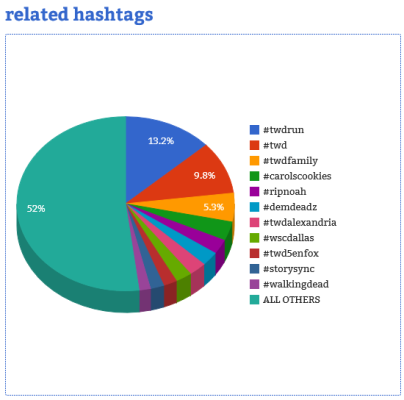 Courtesy of
Hashtag Analytics
With only two episodes left after this week's show, fans seemed to grow impatient yet satisfied with the drama in the stories. With plenty of character troubles and plot twists, fans were kept on the edge of their seats for the majority of this episode in preparation of the upcoming finale.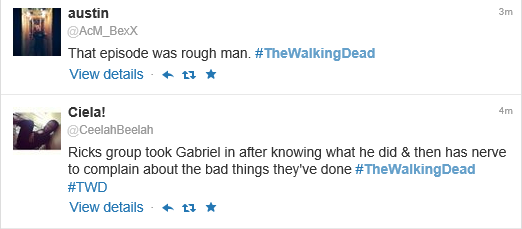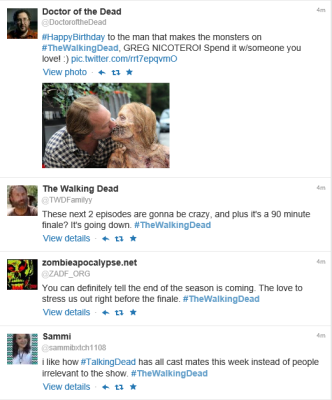 All these fans seem to think about is what crazy thing will happen next. After each episode they usually observe a talk show discussing important events and giving a basic rundown of what they just watched the hour before. This show helps them prepare for and get caught up to the next episode in case they missed important moments. #TheWalkingDead is one of those hashtags that survives all week as people wait in anticipation for the next premiere during the upcoming weekend.