It seems there is an award show every other weekend. But with all of these great movies, music, and other entertainment media, there are plenty of awards to be given out. Of course, as seen via social media, these awards must be deserved. What better way to see what the public thinks about movies than to ask them directly. With the
#Oscars2015
, people could stay up to date with what their votes would go to before and during the actual award ceremonies. That's exactly what Twitter was filled with during the entire evening.

Courtesy of
Hashtag Analytics
The show didn't start right at the opening musical number. Rather, the traditional red carpet took the focus of the cameras and even had it's own hashtag. People were thrilled to see plenty of surprise guests and the usual ones too.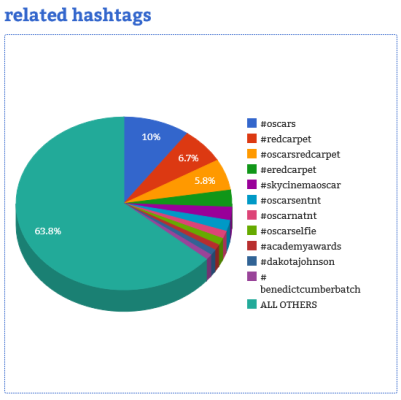 Courtesy of
Hashtag Analytics
Thanks to social media, fans can get a first hand experience of what it'd be like to attend the event even if they can't personally. Many celebrities will participate in using these hashtags to show off their seat, their view from the stage, or even some backstage jokes. Plenty of celebrities were even lucky enough to get a whole hashtag for themselves started thanks to a popular performance or?moment.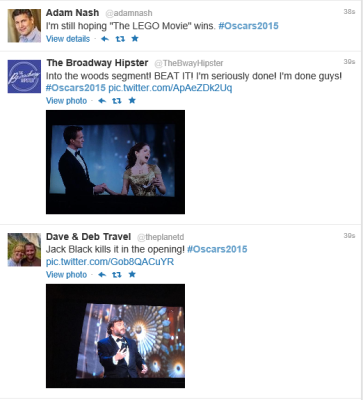 As important as the actual awards might be, the majority of Tweets for the #Oscars2015 were about individual celebrity moments from the show. From surprise guests to incredible music, fans were excited to have another awards show in the books. The jokes ran amuck as popular comedy actors stepped in to host the show and bring some fun and light-heartedness to the audience. From the red carpet opening to the very last Oscar awarded, the #Oscars2015 were full of excitement and fun for the entire television audience and those lucky enough to attend in person.