Day after day, Twitter users are looking to expand their horizons and broaden their influence. With hashtags as complex as #AnotherFollowTrain and some simple ones?such as #RT, there are plenty of choices. However, one of the biggest is definitely
#TeamFollowBack
. This hashtag never ceases to hold a steady trend day after day. With a "copy and paste" like pattern, this hashtag is not only very repetitive, but also quite popular. Everybody seems to want to grow their follower number so they can make new friends or get the word out there about their self.

Courtesy of
Hashtag Analytics
In this two day visual representation of the use of #TeamFollowBack, there are two noticeable spikes right around 8 PM Central Standard Time. This repeats over and over again as the time span is widened. There are plenty of other hashtags that are used alongside #TeamFollowBack that usually have the purpose of gathering followers. The hashtag can sometimes be unreliable however as there is no guarantee the target will retain their following status and may just take advantage of one's forgetfulness to earn a follow for their own account. This may be another reason why?some people utilize the many related hashtags.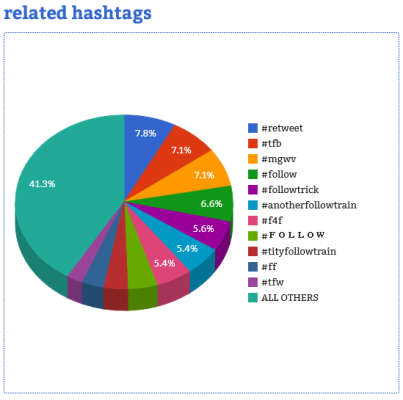 Courtesy of
Hashtag Analytics
The strangest use for these hashtags is by advertisers and accounts that seem to be used for marketing. Perhaps these are automated Tweets or?just serve as an excuse to do something other than beg for followers.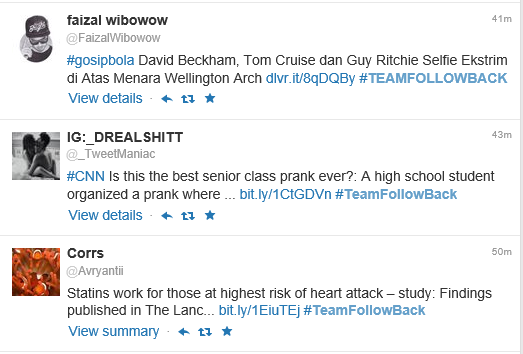 Along with these news-based hashtags though are the many that promise follow backs as long as the reader follows their account first. There are also plenty of people who seem to use this hashtag often and encourage participation by those using it so as not to just think for their own benefit. #TeamFollowBack will continue rolling on as one of Twitter's biggest trends just as it has for the last several months.