As mentioned earlier last week, the Kids' Choice Awards (#KCA) decisions would be based largely in part to fans across social media using the hashtag. This is why #KCA saw so many related hashtags. Along with favorite shows and movies, kids picked their favorite musical artists, a pretty big topic when it comes to social media. That is where all the hashtag
#Vote5SoS
comes into play. Lately there have many bands forming that have followed the popular groups from the United Kingdom. This particular group is actually Australian but is similar in style to these British hits from the younger audiences.

Courtesy of
Hashtag Analytics
Competing with #Vote5SoS are a couple other groups that are very similar in genre. Twitter seems to be in a constant battle between these three as they hold many popular hashtags pretty much every single day. The only reasoning for this is usually for awards shows (like in this instance) as well as for general fighting against the other groups. The hashtags don't seem to be for anything new or events, but rather are a result of constant retweeting by the fan base as well as many illegible posts that simply serve as a showcase for the hashtag.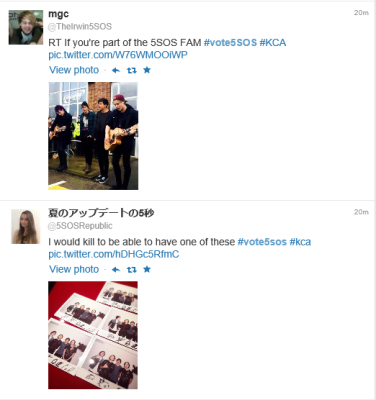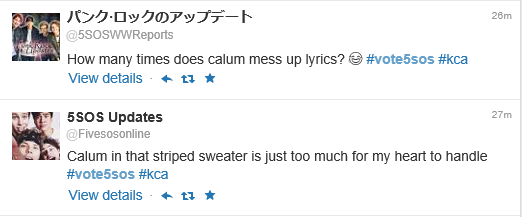 These Tweets fill Twitter so much thanks to all of this spamming. It seems most of these accounts are similar in name, suggesting they are probably automated or just about random facts that happen with the group. There doesn't seem to be much interest in the music but rather it seems this is an attempt to promote the name. The fact that all three of these "competing" bands have numbers in the title, the first word too, is pretty odd. Perhaps it's just a mindless game or something just for fun or even a marketing strategy. Either way, the #Vote5SoS hashtag made its mark across social media.