#litterat
i. The Instagram hashtag initiated a worldwide activity which primarily aims to prevent and stop pollution, as well as get rid of pieces of trash little by little for the benefit of Mother Earth. #Litterati featured photos of small pieces of trash picked up by individuals throughout the day. Kirschner started the movement by sharing his garbage collection for the day. Many people online immediately followed, featuring picked-up trash in countries like China, the United Kingdom and Canada.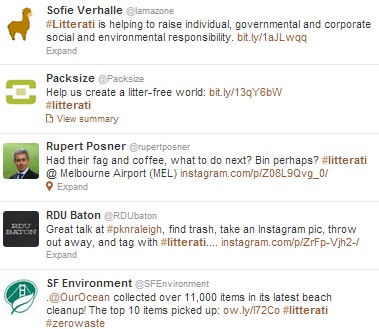 Social media users are invited to join the movement by shooting photographs of the trash they find and pick up on the way to school or at work. Getting one or a few pieces of trash may not be sufficient but if people around the world grab their share of the work, everything can result to large benefits for the environment.

Currently, #Litterati has garnered more than 10,000 from 22 different countries. The most common trash was cigarettes. Because of the huge impact of the hashtag, Jeff Kirschner proceeded to create a Litterati website, featuring a Digital Landfill that shows all the collected photos posted on Instagram together with the hashtag. One Twitter (@wellreadkitty) user posted a photo then tweeted, ?
This is AWESOME! How one man created the #litterati raising awareness of street litter & bringing about real change.
? The powerful movement started by Kirschner shows the effectiveness of social media in making huge-scale effects even for the environment. Spreading information and increasing awareness immediately are just some of the advantages offered by social media sites like Instagram and Twitter. People can join movements and organizations that help fight pollution and save the earth.