#PhilipSeymourHoffman
include Ellen Degeneres, who shared that Hoffman was a brilliant and talented. Comedian Jim Carrey also tweeted how Hoffman was a beautiful soul. Other Twitter fans shared their shock and sadness over the sudden death of the actor, who is best known for his performances in ?Mission Impossible? and ?Capote?.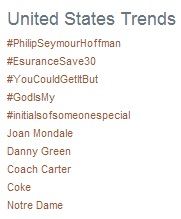 Fans, family and friends continue to share stories and details about Hoffman?s achievements, life and personality on #PhilipSeymourHoffman. The hashtag is still trending well on Twitter and shows how people can get together and grieve regardless of their closeness and relationship with the actor. Many also shared photos and videos of the actor on the hashtag. As of this publication, the hashtag has reached 63,500 tweets and made 242 million impressions.

Courtesy of
Hashtags.org Analytics
His publicist has issued a statement on the actor's death. [screenshot]

Let's have a look at some of the posts made.