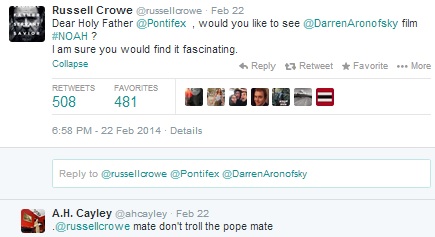 Crowe seemed agitated by a particular user @GlenninVirginia after she told the actor to stop waiting and grow up. He tweeted back,
?I have blocked you? I did that? no-one else, you are, to me, an obvious point of spite and hate? this is a love village.?
Meanwhile, in related news, Christian evangelist and filmmarker Ray Comfort said Crowe's film is hardly a "biblical adventure" and is set to release his own version of the Noah story on the same date on YouTube and DVD. In a statement, Comfort said: "It seems like a 'hail Mary' to the pope. Perhaps he (Crowe), Darren Aronofsky (the director) and Paramount should have listened to their critics, when they had pre-screening a long time ago." He also added: "They have no qualms about sensationalizing the story of Noah in order to make it more profitable. That's their bottom line. But the movie strays so far from the biblical account that it omits its essential message -- God's judgment for man's sin and evil. All they need to do is make a movie about the Bible, have their 'poetic license,' but stay true to the Scriptures -- and we will support your by the millions." The hashtag #Noah has since generated 23,200 tweets and made almost 149 million impressions.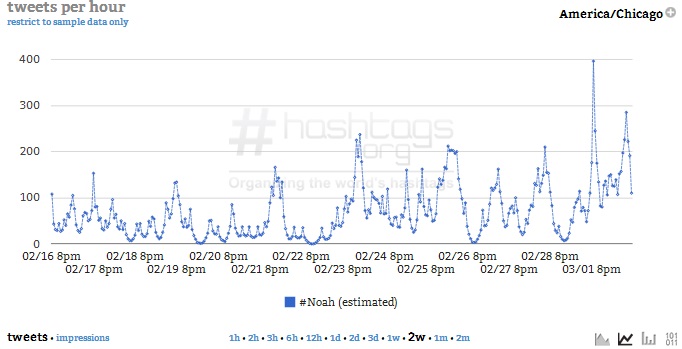 Courtesy of
Hashtags.org Analytics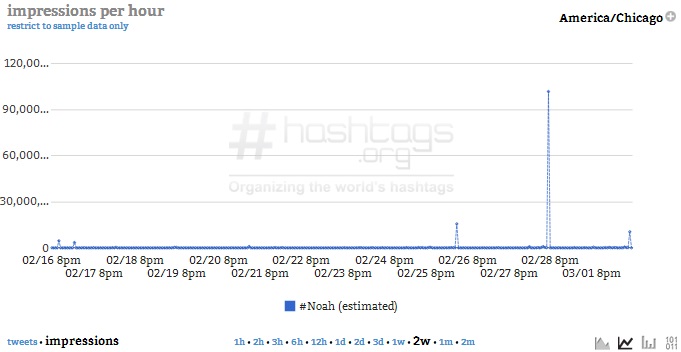 Courtesy of
Hashtags.org Analytics
Do you think this is a real plea for the Pope to watch, or is it just a marketing strategy? Tell us in the comments!