Since Valentine's Day is right at the end of the week, it is only fitting that the middle of the week gives people a nice transition sticking to the topic of love. This is where the hashtag
#WhatIsLoveIn4Words
comes from. The trend lasted most of the day at a pretty steady rate which barely broke 10,000 Tweets per hour but still stayed strong throughout the entire duration of the day. The graph below shows just how steady the trend remained. While there were plenty of sad and tragic news-inspired hashtags running strong as well, it appeared people wanted to remain on a positive topic so as not to go into the weekend in a depressed mood.

Courtesy of
Hashtag Analytics
Of course, as with most Twitter games, there was a fair share of both light-hearted and fun contributions as there were more serious Tweets. The purpose of #WhatIsLoveIn4Words was to get a personal opinion to answer the question, but it also left a little room for some silly remarks and jokes. With Valentine's Day coming up, friends and followers were instructed to take note for some great ideas for their loved ones on this holiday that has become known for romance. Even some businesses took part in using the hashtag, which seems to be a pretty common way to market across social media nowadays.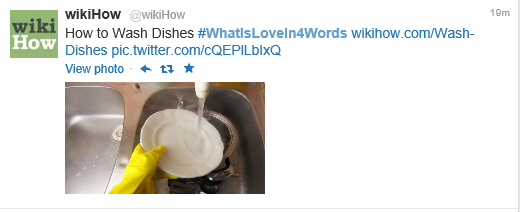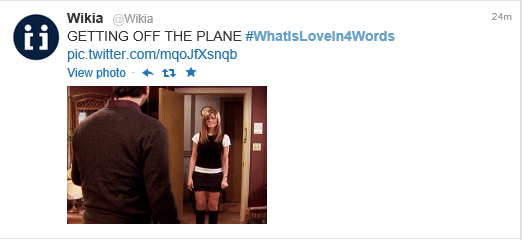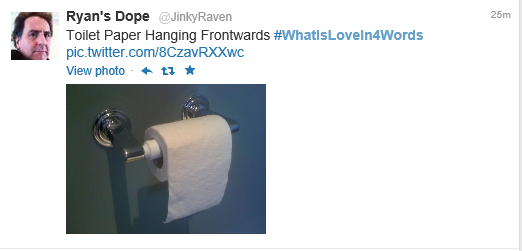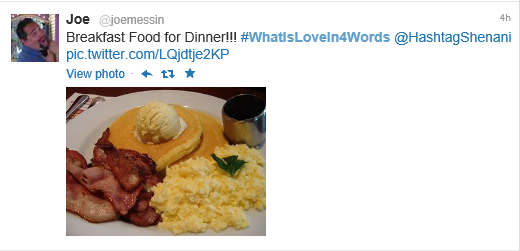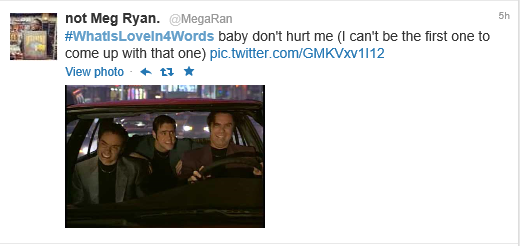 Actually, there was a plethora of business Twitter accounts using the hashtag, all in good fun of course. After all, most of the non-business Twitter users were following along with these businesses and saying that #WhatIsLoveIn4Words had something to do with a certain product that they just couldn't live without. From big moments in media history to classic quotes and down to earth lifestyles, there were all sorts of ideas shared of?what they would describe as true love.?More than fitting for Valentine's?Day, it seems social media is ready for this week to be over.