Although the term "Redneck" is a questionable choice for this hashtag, the main purpose of it is pretty clear. Participants of this trending Twitter game were to remix the title of a book to make it fit a southern setting whether that be their style of cooking, popular trends, or even the popular choice of automobiles. Fans of country music or people from the south themselves came up with numerous ideas to
#RedNeckABook
. Although many book titles were repeated, social media still came up with a few variations of each, especially since there were many popular book titles on the list. Although it did not last long, the trend still reached some decent Tweet rates and continued to linger on through the next day at a few thousand Tweets per hour.

Courtesy of
Hashtag Analytics
As soon as the hashtag was started on Wednesday around 9 PM Central Standard Time, it soared to reach a rate of almost exactly 24,000 Tweets per hour. Again, because this was a Twitter game and not a slogan or other category of hashtag, there weren't very many related hashtags so those who used it didn't really use many others besides #RedNeckABook. This somewhat infringed on the uniqueness of the hashtag but still kept everybody united under the same hashtag.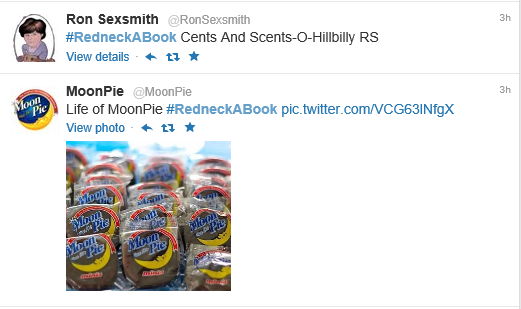 While there were many inappropriate uses of the hashtag, those that remained on track with its purpose gave friends and followers a good chuckle. Through light-hearted humor, it was a good way to see some of the stereotypes of southerners and hyperbolize on the stereotyped ways of life. From trucks to country music and fried food to true American ideals, #RedNeckABook does more than just highlight some of the traditions of southern styles and ideas. Instead of an intent of mocking the lifestyle, it did more to see what social media thinks of the stereotypes.