It's no surprise to find so much disgust in the terrorist group across the internet. The Islamic State of Iraq and Syria, shortened to
#ISIS
, receives plenty of credit for the murder and assassination of many innocent people every day. When news emerges of a new attack against an innocent person or group of people, social media erupts. Many are angered about the poor choices this group has made and criticize the groups #ISIS claims to be?a part of, especially when it comes to the Islamic religion. After recent news of a pilot from Jordan being killed, social media brings attention back to #ISIS as their infamy rises.

Courtesy of
Hashtag Analytics
The graph shows the large spike in the use of the #ISIS hashtag. For the past month or so, the Tweet rate didn't pass 10,000 per hour very often. However, with this news of yet another violent murder and an update on their plans, social media seeks to spread the news and emotions drawn from it. Every use of the hashtag showed disrespect for #ISIS. People who actively identify with Islam developed several related hashtags to show just how wrong #ISIS is about their religion. These social media users say their religion is about exactly the opposite of what these terrorists do. They want to make sure the world knows their religion is on the completely opposite side of the spectrum of good and evil compared to #ISIS.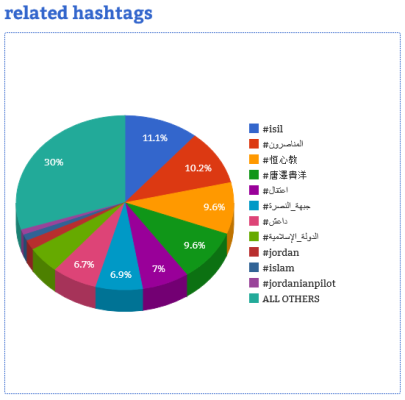 Courtesy of
Hashtag Analytics
Fortunately most of social media appeared to understand these cries for diversity from the peaceful Islamic people across social media and identify the difference between them and #ISIS.





The hashtag certainly gets the #ISIS name out there. By now the whole world knows the news of the latest events that have taken place.