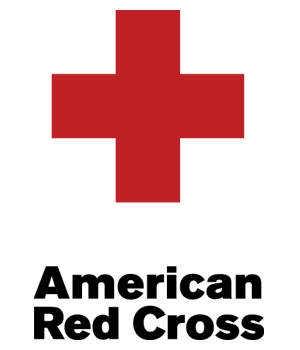 As much as Twitter has been actively increasing its efforts to boost income and profit by selling online advertising products and expanding to remote areas around the globe, it never fails to participate in humanitarian efforts. Twitter
teams up with the American Red Cross
and created the hashtag
#Tweet4Good
to inspire philanthropy online. Each time a Twitter user includes the hashtag #Tweet4Good in their post, Twitter will donate $1 in Twitter promoted products up to a maximum of $20,000 to aid the Red Cross (
@redcross
) in crisis relief activities.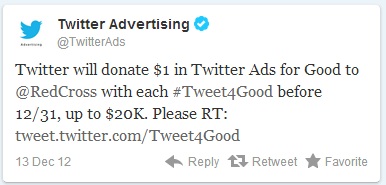 The donations will accumulate until the total amount reaches $20,000 or before December 31, 2012.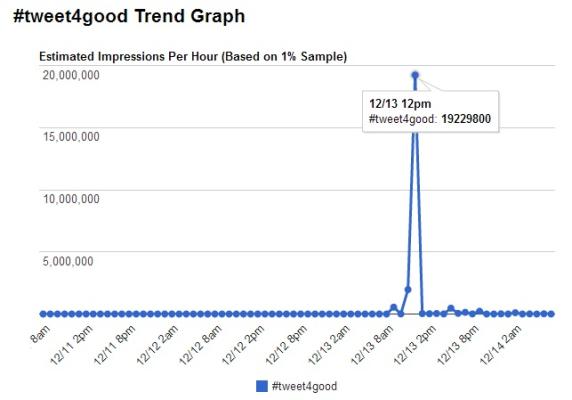 Courtesy of
Hashtags.org Analytics
Twitter has also been very generous in other fields, such as handing out over $50,000 to many community groups in the mid-Market area in San Francisco, adjacent to the Twitter headquarters. Twitter has also contributed close to $1 million to aid groups in acquiring useful information and updates, via the Twitter Ads for Good program. A number of organizations were supported in this endeavor, like the office of the city mayor in New York as well as the Red Cross, particularly when Superstorm Sandy hit. The micro-blogging site will also give community grants to non-profit groups such as the Larkin Street Youth Center, the Heart of the City Farmer?s Market, the Community Arts Program, The Cuttingball Theater, the Bay Area Women?s & Children?s Center/Tenderloin Community School Technology, the Intersection for the Arts and the Vietnamese Youth Development Center.