??by?
?nishad2m8
?
'
Promoted tweets
' and 'promoted trends' have been increasingly utilized by branding strategists to secure a niche and establish an identity on
Twitter
. Being one of the biggest social media sites on the Internet, advertisers have used Twitter as a low-cost yet highly-effective means to get a message out to the most number of people at the shortest time (as with television). Because almost everyone now has a social media presence, securing a promoted tweet or trend is similar to getting ad space and exposure even to those communities where you don't have a presence. Tweeting the word out about your project or service is easy. However, the question is: does it reach the right people? If you're wondering why not too many are responding to your announcements, it may be because your followers are not exactly the market your tweets are targeting. Promoted tweets and trends go beyond your little community to make sure that those who are truly interested in what you offer will see what you have to say.

Getting to Know Promoted Trends
Promoted Trends started as an addition to the Promoted Tweets platform. These are now a complete product where users get to see trends that are featured by advertising associates. These will be sensitive to context, time and events. The trends are also paid for by advertisers to improve visibility to target customers. They will be visible at the uppermost part of Trending Topics on the website and will be labeled as ?Promoted?.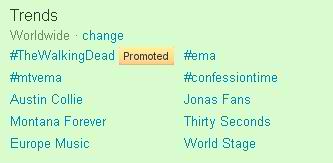 Twitter users can easily click on a Promoted Trend to see all the Tweets that have the particular hashtag and related terms. Users can also Tweet about the trend using the related terms in their posts. The main difference is that a Promoted Trend is paid for by the advertiser and will be labeled as ?Promoted?.
Following Promoted Trends
When Twitter users click on a Promoted Trend, search results on Twitter will be available on the topic. There will also be a related Promoted Tweet coming from the advertiser found at the top. Tweets will be available on the search results and you can expect these to be authentic and unfiltered. Those that violate the guidelines of the website will automatically be removed. Promoted Trends are generally viewable on the homepage of Twitter users as long as these are being advertised. You will find the Trending topics on the Discover tab. The trends are also visible on Twitter for Android, Twitter for iPhone and Tweetdeck.
Getting to Know Trends
Trends can be recognized through an algorithm and will be adjusted according to the users that you follow and your current location. The topics that will most likely be interesting to the user will be identified and introduced. This means that Twitter users will be guided on which topics and matters will interest them. The #sign is indicative of a
hashtag
. It generally precludes the phrase or word to define the topic and make it easier for other online users to follow. Both local and international events and activities will be featured in the Trends. Individuals can also follow certain conversations. To learn more about how a certain hashtag is faring at a particular time, type it into our
analytics section
?and you'll see how many are tweeting it per hour, all the related hashtags used with it, the most prolific users and a timeline of actual tweets incorporating it. When you click on a Trend, the search results will appear including all the tweets that have the hashtag or phrase. You can also join a trend by simply tweeting and using the exact phrase or word that interests you on the list. Quality is one of the main factors whenever Twitter filters searches. Always be aware of the guidelines when trending. Knowing the rules is vital users tend to abuse Trends. Some activities might result to the account being filtered out by Twitter, such as adding a hashtag or topic to a completely unrelated tweet or tweeting about every trend to bring more people into your own website. The value of the conversation should never be compromised when tweeting. Twitter can recognize users who only use certain hashtags or words to gain attention without making much sense in their posts.