Twitter 101: What Is a 'Favorite'?
Vanessa Doctor October 8, 2012 2
Similar to declaring your interest in a certain subject out loud, clicking on 'Favorite' on a Twitter post is your virtual way of saying you like it enough to mark it.
Twitter is one of the biggest social media networks on the Internet covering a wide array of topics shared by millions of individuals from all around the world. Celebrities, politicians and ordinary citizens discuss various topics in one thread, thus blurring the lines that would have existed in the 'real world'.
The topics may be casual or include serious matters that extend to other regions of the globe. It's important to keep track of the topics you're most interested in. 'Favorites' help you do just that.
What are Favorites on Twitter?
A 'Favorite' on Twitter refers to topics or subjects that users are most interested in. Every user in social media websites is unique and this is why it's important for the social media sites to identify their particular interests.
Websites and advertisers online will better understand and determine their target market by knowing which topics and areas the people want to read about.
There are so many topics available, such as sports, fashion, music, politics, television, computers, etc. These can further be categorized to make it easier for Twitter fans to follow and monitor the news and related details.
Favorites are shown by a tiny star icon right beside the Tweet. When you mark a Tweet as a favorite, the original tweeter will be informed that someone liked their post. You can also save the Tweet for future use or browsing.

Marking Topics on Twitter as a Favorite
To start marking Tweets as a favorite, sign in to Twitter first. Start from your home timeline that point to the Tweet you wish to mark. Click on 'Favorite'.
A gold star will be visible on the upper right portion of the Tweet to let you know that the Tweet has been marked as a favorite. Tweets can also be favorited from the profile page of another user and the permalink page of the Tweet.
'Favorite' is found just beside other options like 'Collapse', 'Reply' and 'Delete'.
When marking Tweets as favorites from the protected profiles of other users, the update will not be seen on the Favorites tab on the profile page. The viewer has to be an approved follower of the author of the update for this to be done.
If you wish to remove or undo favoriting the Tweet, simply point to the Tweet you just marked as a favorite. The same gold star will be seen on the upper right corner. Click on 'Favorited' to remove or cancel the action.
More About Favorites
When viewing your timeline, you can see all your favorite Tweets. These are present on the upper right part of the Tweet. These are also present on your profile.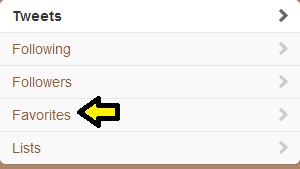 Click on Favorites in the column on the left side of your profile. You will also discover a scrolling list of other posts that were your favorites in the past. When you tweet, some people might also mark it as their own favorite.
You will be alerted whenever someone favorites your Tweets. The information will also be present below the 'Connect' tab in 'Interactions'.
If you wish to view the favorites of other users, you should first go to their profile page. Click the 'Favorites' found in the column on the left portion. You will discover a scrolling list of Tweets being marked as favorites.
If a Tweet from another user with protected posts has been favorited, only those who have been approved by the user can view the favorite as included in the list.
It will be helpful to have yourself confirmed or approved by a specific user first before favoriting his or her Tweets. Find the topics that interest you the most so you can keep track of all the details and stay updated.
Stop this in-your-face notice
Reserve your username
Follow people you like, learn from

Extend your profile
Gain reputation for your contributions
No annoying captchas across site
Leave a Comment