It's that time of year again for Christians around the world. Starting with
#AshWednesday
and finally leading up to Easter, Christians take this time to reflect on the sufferings of Jesus Christ. Though mostly for practicing Christians, #AshWednesday is the start of a season that many still participate in. Typically this day is celebrated with a church service that signals the start of Lent which is the first of 40 days that symbolize the 40 days leading up to Jesus's death on the cross during Good Friday and eventually resurrecting on Easter Sunday. Of course, this hashtag gave Christians (and those curious about the tradition) the chance to show the world their faith as they received their ashes as a reminder of these events.

Courtesy of
Hashtag Analytics
Throughout the day, there were a few hashtags that popped up that stayed with the #AshWednesday theme. As Lent had now started, people were excited to begin their spiritual journey and conscience cleansing. People had also come up with some other hashtags to make this year's #AshWednesday more unique by including 2015 in a few hashtags.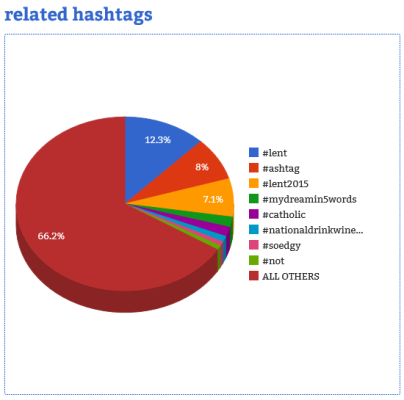 Courtesy of
Hashtag Analytics
With an entire hashtag dedicated to this tradition, social media was filled with pictures of people receiving their ashes, Lenten pledges such as things to be sacrificed or promises to be kept, and other common traditions that come out on #AshWednesday.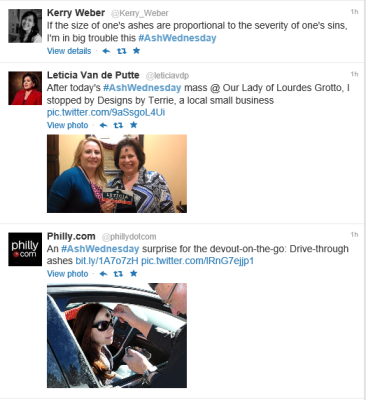 The day was filled with Catholic and Christian traditions. Social media was a great place for people to discuss their feelings on this religious tradition and even ask questions about certain parts of the traditions. A purely symbolic day, these practicing Christians prepare themselves for the next 40 days where they will strive to become closer to God and work to become a better person while facing several self sacrifices and fulfilling obligations.