#MyAshes
. The hashtag #MyAshes was created by the National Catholic Reporter and began asking social media users to share their Ash Wednesday selfies. The NCR tweeted, ?Remember to tweet us your
#AshWednesday
selfies tomorrow using the hashtag #MyAshes. We can?t wait to see all your foreheads!? The hashtag has so far reached a total of 374 tweets and made a whopping 2.6 million impressions. Definitely not bad for a Catholic newspaper on a social media roll.

#ShowUsYourAsh
was created by the group and asked people to also share their selfies on Twitter or Instagram. Busted Halo Tweeted, ?May the best ash photo win!? The company is offering to send a iPad Air to the winner. Yet, even with the contest, the hashtag's tweet numbers reached only a total of 88 so far. It has also made 16,400 impressions.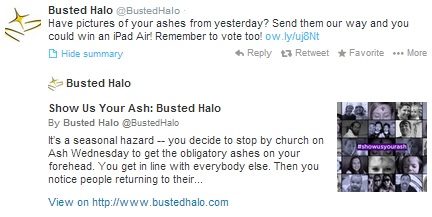 #Ashtag
, Some shared how thick their ashes were compared to previous years while others posted about the things they reflected about as Lent season begins. #Ashtag has generated 24,100 tweets so far and has made 13.65 million impressions.