For some, it's been way too long since the?season?4 ending?of #TheWalkingDead. Well the newest installment of the hit AMC series is here to satisfy those anxious fans. The show aired last night on AMC and was trending all day amongst football games and other television premieres. The most prominent of the many hashtags was #TheWalkingDead.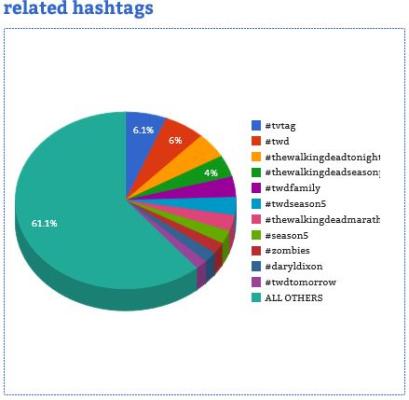 Hashtags related to #TheWalkingDead
While #TWD (the abbreviation of the title)?and #TheWalkingDeadTonight were among the trending hashtags seen this Sunday, #TheWalkingDead remained the most prominent. The Tweets started pouring out early Sunday morning with some throughout all of last week. Right around 8 AM Central Time, as everyone was waking up, they realized what day it was and went straight to Twitter and social media to discuss their excitement with the world. The trend rose steadily until about the middle of the afternoon when numbers started to descend as different hashtags came out such as the two listed previously. #TheWalkingDeadTonight seemed to be the preferred Tweet from AMC, the show's television station, thus causing such a division in related hashtags.


Anxious Tweeters took to their typical Tweeting tyranny to express how excited they were for the premiere. Some die-hard fans took to very drastic emotions while others just tried to keep themselves occupied with Sunday football games.?Some even?warned their friends to?avoid disturbing them during the show.




Fans made predictions, expressed worries for their favorite characters, and prepared themselves mentally for this day. #TheWalkingDead has been a television hit ever since the series premiere. This Sunday marked the start of the 5th season in what is, as always, expected to be the best one yet. Be ready for every Sunday to be flooded with not only football trends, but scores of #TheWalkingDead Tweets as well.