Many pundits, and the public at large, have taken to social media to vent their current frustrations surrounding ESPN's choice for their Courage Award at the 2015 ESPYs.
While the raw tweet count for the current "underdog", Lauren Hill (#LaurenHill), a courageous women's basketball player who recently passed away from cancer, and exhibited extreme courage until the end, does not currently match that of the current intended recipient, Caitlyn Jenner (#CaitlynJenner), there's no doubt there is more than #ESPY chatter as it relates to the former Bruce Jenner.

But, as you can see above, the reference to, and support for, Ms. Hill is starting to ramp up. Below are some of the most common types of comments being made regarding the topic on social media:

What's interesting as well, by looking at the Hashtag related tweets chart that gets generated by our analytics, one can quickly un-surface groundswell support for other potential deserving candidates, such as Noah Galloway (#NoahGalloway) from the Dancing with the Stars (#DWTS) reality show, a Iraq war veteran who lost multiple limbs during his service, and is certainly deserving of consideration.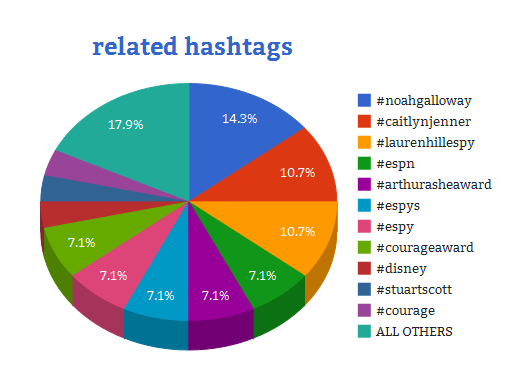 Want to track this and other top news stories, topics, and trends? Head on over to our real-time Trending on Twitter page to discover the next big topic ready to emerge, and click through any #hashtag to view additional analytics.