??by?
?
Creative Tools
?
When using Twitter for the first time, you can
choose how your Tweets are posted
. Some people prefer to keep their posts private while others like to publicize and keep their account visible to more online users.
How to Protect Your Tweets and Information
When using Twitter, you can choose which users you would like to
approve or deny
as a follower. You will get requests from online users who wish to follow you.
Check the follower request notification located on the left portion of the homepage.
Select the notification then choose to approve or deny the follower.
The notification or request will only be available to Twitter users who chose privacy settings.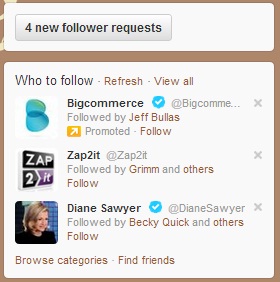 People with accounts that have public Tweets will no longer be asked to deny or approve a follower. The people who choose to follow them will automatically be added to the follower list. However, you can
remove or block
these individuals later on as you like. Twitter users who do not have requests or notifications for followers can change the settings and protect their Tweets to have control over potential followers.
Go to the account settings and then select private Tweets. Users who have pending requests at the time you had protected Tweets have to follow again.
The notification message will not be presented if you don?t have any requests.
You may also receive an email to let you know that there are new followers pending approval. However, if the request is not available in your actual account, the user might have cancelled the request before you can approve or deny.

When using an official application, you can also approve and deny followers. Start by looking for the Me tab then locate Follower Requests. The following screen will ask you to either approve or deny requests. You can also be given the option to accept all available requests. Twitter users can opt to
make the Tweets public or protected
from those you do not know. Accounts with protected Tweets will need manual approval o every online user who they intend to follow. Public Tweets can generally be seen by any person on Twitter, including those without an existing account. This is the default setting when you create an account too. Protected Tweets can only be seen by Twitter users who have been approved.
How to Remove Followers on Twitter
You can
remove existing followers
on Twitter by blocking them.
Start by logging on to the website.
Go to the profile page of the individual you intend to block.
Select the person icon found on the profile page. You will also find a drop-down actions menu.
Choose Block from the available options. Once a user is blocked, they will no longer be able to add your Twitter account to the list.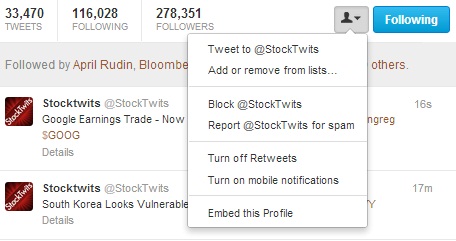 Their
@replies
will also be invisible in your Mentions tab. However, these may still be visible in the search. Blocked followers cannot follow you online or see your profile picture in their timeline or profile page. Blocking followers is a great way of staying protected from unwanted or unscrupulous users. However, Twitter users with Public Tweets can be found on the public profile page of any online user, whether they have an existing account or not. A blocked user will not be notified about his or her status but they will eventually find out when they can no longer access your account. You can also unblock users if you wish.
Go to the account profile of the blocked user.
Select Unblock form the drop-down menu of the person. He will again be able to follow and see your profile online.
How to Unfollow Twitter Users
After some time, you may decide to unfollow certain individuals on Twitter as their posts and information no longer relate well with your social media objectives. You can unfollow these people easily through the following steps:
On your profile page or homepage, select Following.
Move the mouse over the blue Following button beside the user on the list. After a few seconds, it will turn into red with the word Unfollow.
Click the Unfollow button to stop following that user.


Using a user?s profile page, you can also
unfollow
him or her.
Go to the profile page of the Twitter user you?d like to unfollow.
Move your mouse over the button with Following until it turns into a red Unfollow.
Select the Unfollow button. You will no longer see the person?s posts on your homepage after choosing to unfollow.
Unfollowing can also be done using mobile devices. The idea is to concentrate your account on other accounts that will be relevant to your specific interests and online goals. You can improve the quality of information being shared by choosing the users properly.