??by?
?Cory Schmitz
?
How would you like to relive the greatest TV show online? Even today, viewers say that Seinfeld is the best TV sitcom ever, despite the fact that it stopped running in 1998. Although the popular TV show never got to be in the age of social media, Twitter and Facebook made efforts to create a new Twitter parody account. The username is
@SeinfeldToday
and the account discusses how the TV show might have run at present, where billions of individuals are glued to the internet and have at least one account in a major social media network. Jack Moore (
@BuzzFeedJack
), sports editor of Buzzfeed, and comedian Josh Gondelman (
@joshgondelman
) served as the voices of the new Seinfeld. Moore commented that the TV sitcom would still have run successfully today even though some might think that the lines and humor are somewhat outdated. Moore shared, ?It would be different but not as different as everyone acts like.? Here's the account's earliest tweets.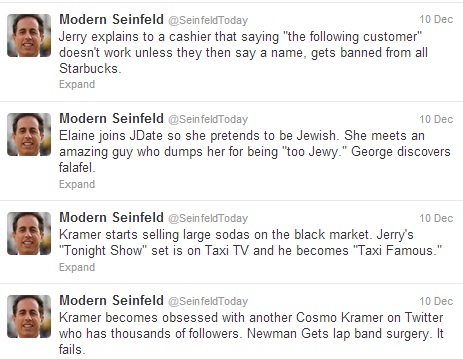 The hashtag
#ModernSeinfeld
was also created on Twitter where online users can share their own ideas of how the story would have gone in recent times. There were several ?what ifs? and ?what woulds? posted on the hashtag. Many of the questions applied modern features like cellular phones, the internet, online dating and social media networks.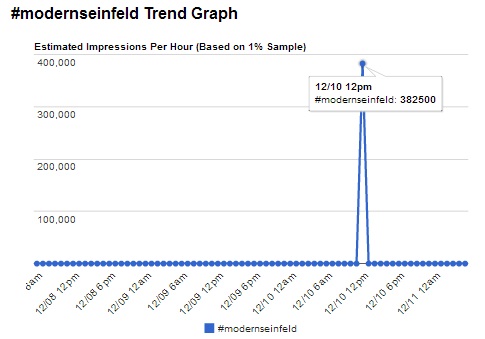 Courtesy of
Hashtags.org Analytics
Some of the memorable user tweets on #ModernSeinfeld are as follows: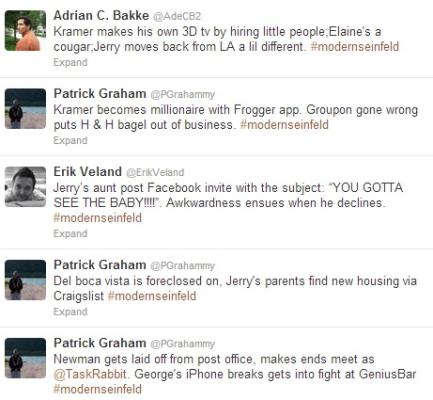 As of this writing, the account already has more than 98,000 followers and churned out over 50 tweets.