??by?
?
Jason A. Howie
?
When launching a social media campaign, you should be guided by the right information so you can constantly offer useful content and products to your market. Marketers must be
involved in the best conversations
and activities so that they can update their offers and provide schemes that will truly be beneficial to the target market. Understanding the
value of hashtags
and quality posts is one step. Knowing the particular hashtags that social marketers must track will be very valuable.
The hashtag generally covers all things social media. You can discover some of the newest gadgets, social media apps and platforms as well as changes in each social media network. Know how the processes work then determine if these fit your own social media campaign.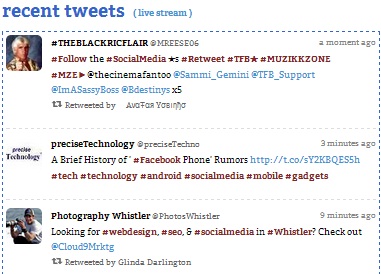 The hashtag was created by Mack Collier (
@BlogChatNews
) who is a social media expert and SEO expert. People can join the conversation every Sunday at 9 p.m. People usually talk about the latest trends in the social media market as well as share social marketing tips to continue growing businesses.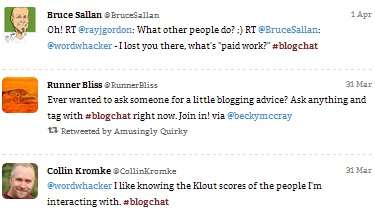 The hashtag was created by
SocialParle
?and discusses social media on a general scale every Monday at 9 p.m. People can share media content online as well as exchange ideas. Some of the experts in the industry also take time to answer questions from beginners.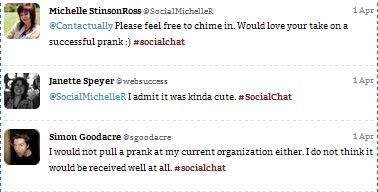 This is a great place where people can learn some of the basic practices and etiquette when it comes to social media advertising. People online can harness and improve their existing relationships with colleagues and customers. The chat is held every Tuesday at 10 p.m.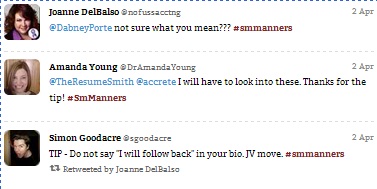 SMChat will help new and old social media users expand their network. The conversation is held every Wednesday at 1 p.m. Participants talk about the different aspects of social media and also get tips from others? experiences and marketing approaches. People can refer to the blog to suggest topics.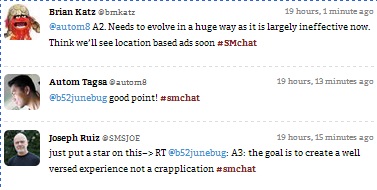 People visiting the hashtag can expect useful information on how to increase brand awareness as well as effectively establish their brand to last for years. The conversation is held every Wednesday at 8 a.m. People will exchange ideas and refer to new issues as far as branding is concerned.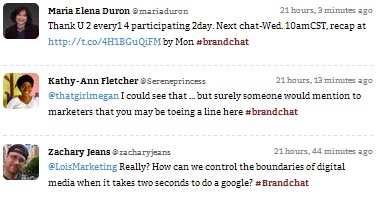 The hashtag will provide a lot of links, articles and blogs from various social media marketers. These sources of information will be helpful for marketers who wish to improve their skills and techniques online to cater better to the target audience.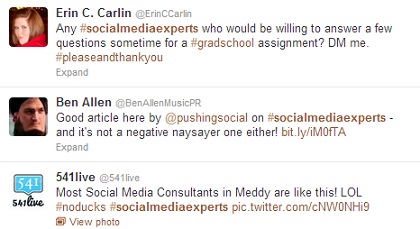 Online users who wish to get more guidelines and quick reminders on how to operate their social media campaign should refer to the hashtag. People constantly share updates and related news that will be helpful for research and providing adequately to the needs of clients.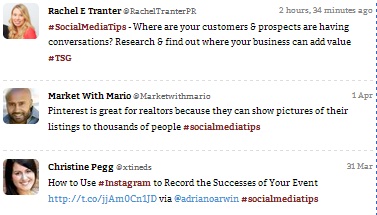 Social media experts announce their conversations and events in the hashtag. People can look for upcoming activities and also share posts pertaining to social media marketing. Many users share their experiences at social media gatherings and what they learned from online chats.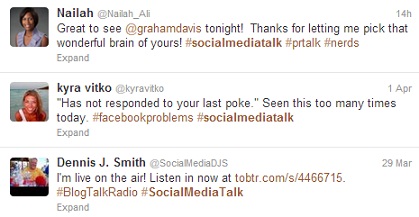 The hashtag features some of the top social media marketers and company executives around the globe who share their own expertise and knowledge on the subject. The conversation takes place every Monday at 8 p.m. The hashtag was created by Jeff Ashcroft (
@JeffAshcroft
) and is a great resource for young and expert social media marketers.