January (Month 1)
Begin to assess your social fitness by finding out which social media sites will work best for your business and personal objectives. Find out where majority of your target clients are members of.
Is Your Business Ready for Social Media??
Why Should You Include Social Media In Your Campaign?
February (Month 2)
Revisit your social goals by determining why you intend to use social media. Companies may aim to improve customer services, constantly provide new information and updates and communicate with their customers better.
10 Twitter Hashtags For Business In 2013?
7 Social Media Trends You Must Never Miss?
March (Month 3)
Find ways to gauge your social media status by checking your follower growth, checking for added traffic to your website and mentions about your company.
Follower Engagement: Why Do You Need It??
5 Surefire Ways to Increase Your Follower Count?
How To Track Hashtag Performance
?
April (Month 4)
Listen to your customers by observing if you are tagged or mentioned more often after a campaign or marketing post. This should alert you on the products and services that people are looking for.
Twitter 101: Reel Your Target Audience In?
Tight Marketing Budget? Promote Your Business For Free On Twitter
May (Month 5)
Find more ways to communicate. Make use of social media tools and features like hashtags, live updates, blogs, etc. to keep in touch with target clients. The hashtag #Samsung, for instance, is used by clients to air out thoughts on the brand's products, like so.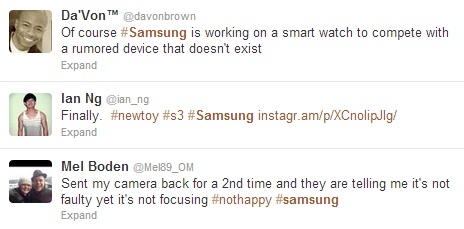 Hashtag Power: What A Hashtag Can Do For A Brand?
How To Lead The Social Media Race?
June (Month 6)
Improve how you respond to clients. Check for feedback?and comments. Also respond to customer queries and concerns and immediately take action should complaints arise. This is the way to respond to a client concern.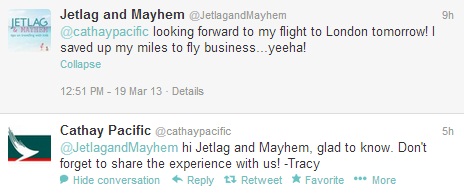 This is
NOT
the way to deal with queries. This photo went viral on Twitter.

3 Keys To Better Twitter Relationships?
Building Credibility and a Good Reputation on Twitter?
July (Month 7)
Integrate social media platforms. Discover some features and tools that allow you to easily post and send messages through two or more social media sites without having to skip dashboards.
It?s Not Always The Numbers: Guide To Tweeting Smart?
Why Analytics Matter To Your Twitter Strategy?
August (Month 8)
Reach out to customers and ask them to help bring in more relevant followers and clients. Provide updates and invite others to be part of your email list. Have others refer your company.

How To Say ?Thank You? To Your Social Media Fans?
Twitter 101: How To Handle Customer Complaints?
September (Month 9)
Find team players. Look for highly influential and hardworking individuals that you can add to the group in terms of marketing effort. These people will be helpful in increasing the interest of potential customers and spreading information.
Finding Your Company?s Top Evangelists on Twitter?
30?Ways to Boost Your Twitter Following
October (Month 10)
Fight the competition. There will always be new and competitive players in the industry. Be the first when it comes to developments and keep abreast of innovations and technologies. A promoted tweet often helps in marking you as a pioneer of a certain strategy. Check out the number of retweets and favorites this promoted tweet got so far.

How Twitter Contests Help Maximize Business Growth?
Starting A Twitter Hashtag For Business?
How Do Promoted Accounts Help??
November (Month 11)
Get vital information from year-in reviews. Meet with other members of the company and determine the pros and cons of your marketing approaches then compare these with other competitors.
How To Create Effective Marketing Hashtags?
Best Practices Guide For Twitter-Led Promotions
December (Month 12)
Plan for the upcoming year by assessing the effects of various techniques and campaigns. Prepare a new schedule for the upcoming year and break it down into twelve months.
How To Create Twitter Lists?
Who Are The ?Millenials? And Why Pay Attention To This Market?
How To Keep Your Account Fresh And Interesting