follower engagement
?is needed by casual users as well as businesses that wish to grow continuously. Followers or relevant users are constantly on the lookout for great sources of information. It is also easy for them to
stop following accounts
?if they don?t find the content and posts worthwhile. It is important to know the basic rules of follower engagement for success.
Why Engagement Matters
1. It showcases you as an industry leader.
Follower engagement means that you constantly check with your followers to determine their current needs. You should also respond to their requests and queries immediately. The Apple
@AppStore
, for instance, reaches out to customers this way:

This shows that you are actually taking the necessary steps to provide them with much-needed leader and to give guidelines on how to benefit much from social media. This establishes you as a leader in the business. Online users are more likely to refer to industry leaders as they believe that these individuals or groups are more equipped and experienced in providing them proper tips.
2. It shows you care.
Online users can easily be turned off by online accounts that seem to be only interested in making a quick buck. Check out what coffee giant Starbucks (
@Starbucks
) posted.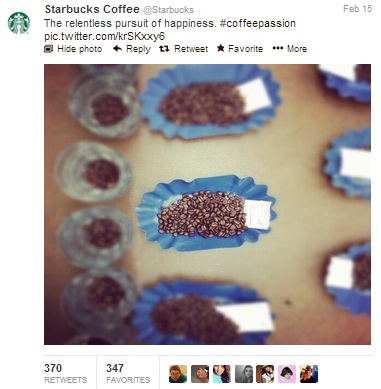 Follower engagement means that you actually wish to provide people with what they truly need and are interested in, whether these come in the form of things or information. Engaging with your followers allow you to innovate and make the necessary adjustments so that your business is always first when it comes to providing great quality content and offerings.
3. It shows personality.
You become
more approachable to current and potential followers
?by communicating with them all the time. It is recommended to share your casual side even when using a business account to show people that there?s a real human being operating the profile. It will put you in a better position than robotic accounts that answer in a generic way.
4. It guides the company.
Even the company itself will benefit as you get information from customer questions, feedback and comments. This is how Walmart's Green campaign (
@WalmartGreen
) does it.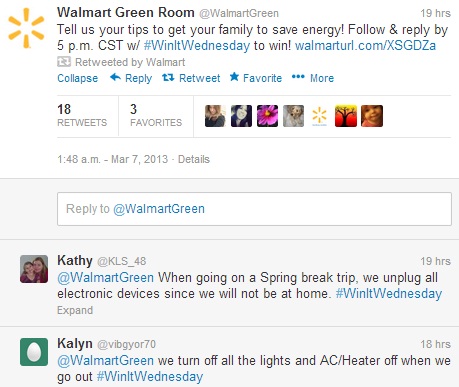 The objective of the company is to constantly change and adjust to the new challenges in the business. You can take advantage of the knowledge you acquire firsthand from actual customers. Gear the company towards new developments and available technologies to be a pioneer in your respective field.
5. You get to meet other experts.
Some of the followers you engage with are actually experts in the industry. If you show that you truly care about the customers, these social media experts will be willing to help you grow the business further by spreading information to their own followers. These successful individuals on social media are most likely followed by thousands of users too so it will be helpful for your cause to make friends and build strong relationships with these key individuals.
6. You can gauge how you?re doing.
Companies should
constantly monitor
how their recent campaign and strategies benefited the company. Take time to get
customer feedback
and even set up a complaints page so you can improve on your weak points.