#Ravens, #49ers Fans Tweet Before #HarBowl
  by 
RMTip21
Can you feel the NFL fever on Twitter?
The hashtags #Ravens and #49ers are trending on the micro-blogging site as fans from worldwide show support for their favorite teams ahead of the NFL Super Bowl XLVII in two weeks.
The big game will feature the Ravens against the San Francisco 49ers.
To thicken the plot even more, the plays will feature the prowess of brothers John Harbaugh, coach for the Ravens, and Jim Harbraug, coach for the 49ers, in a battle that will certainly have the Harbaugh family cheering for two teams at the same time.
The graphs that follow will certainly not determine who will win, but for the sake of fun, let's see whose fans are more passionate on Twitter, shall we?


The history-changing matchup between the Ravens and the 49ers is much anticipated by football fans everywhere since the San Francisco team has never lost a Super Bowl in its history. The San Francisco 49ers also rank second when it comes to having the most championships in the NFL with five.
On the other hand, the Baltimore Ravens also have their own achievements to show-off, being one of only four NFL teams with a Super Bowl record of 1-0. Should the Ravens win against the 49ers, they would break the Super Bowl winning streak of the latter and be undefeated as far as the biggest game in American football is concerned.
In short, it's going to be a very hot game – so hot that it has spawned its own hashtag: the #HarBowl.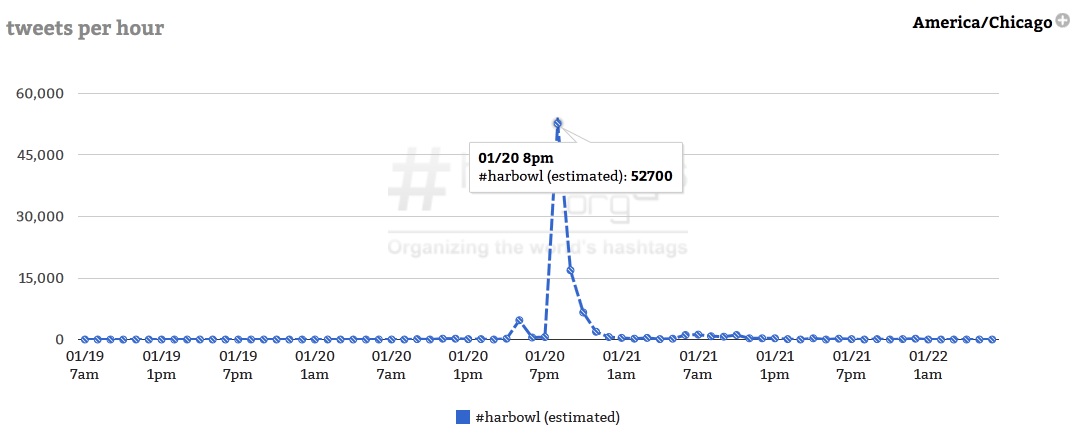 Stop this in-your-face notice
Reserve your username
Follow people you like, learn from

Extend your profile
Gain reputation for your contributions
No annoying captchas across site
Leave a Comment