Curious to get a feeling for which team social media is pulling for in this year's NBA finals?

Each team has a hashtag their respective fan bases have been utilizing to voice their support. For #Cleveland, #allincle, for #GoldenState, #dubnation.
Take a look at the estimated tweet volume for each of the above hashtags over the past 24-hours:

As you can see via the above graph, #allincle appears to have the edge in terms of general user sentiment.
But, can we use additional analytics to support this conclusion? If we look at the more general hashtag for #NBAFinals over the past few days, where volume is much higher, reaching over 115K tweets in a single hour during game 3:

We are able to then discern "user sentiment" by looking at the related hashtags that have accompanied tweets also containing the hashtag #NBAFinals.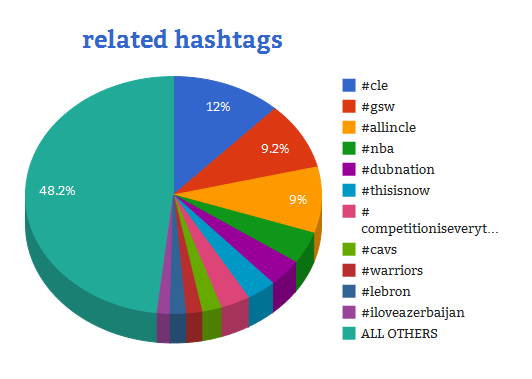 By summing up related tweets (on a percent basis) referencing / in support of the #cavaliers versus the #warriors, you can see the related tweets chart corroborates our previous conclusion.
It has been over 50 years since a championship has come to the city of Cleveland. Could this be the year the drought comes to an end? According to social media, most are hoping #KingJames will make it "reign".