Thinking of making a subtle color change to your corporate logo? If recent rumblings within social media play a role, perhaps you should think again!

Users have taken to social media, using the hashtag #SpotifyGreen, to mostly express their displeasure with the recent change.
Take a look at the estimated tweet volume for #SpotifyGreen over the past week:

The above is a potential case study in marketing for how to handle user sentiment on social media, both before and after a significant event, and perhaps even shows, in some cases, that using social media for user feedback, in advance, may not be such a bad idea. If nothing else, however, it provides value feedback in allowing marketers to see and understand the passion users have for their product:

As you can see, there are people on all sides of this debate, however, the tag would not have risen in the trending charts had it not been for the overwhelming user "dismay" surrounding the change.
Viewing "Related Hashtags" within our Analytics reveals some additional thoughts and opinions as it relates to user sentiment surrounding the color change drama, the most comical of which is #50ShadesofGreen, a reference paying homage to the popular 50 Shades of Grey book and movie (#50SahdesofGrey).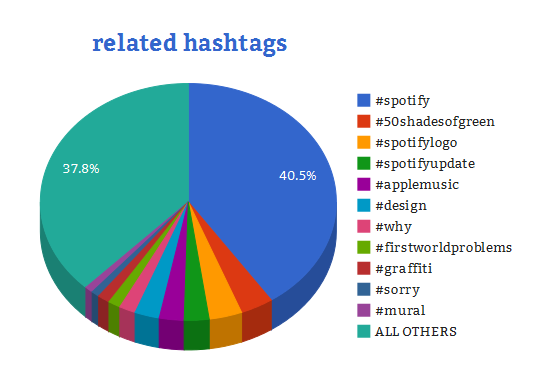 As they say in public relations, even bad press can be good, as it gets people talking about your product or service. In the long run, perhaps this was a strategy within the confines of Spotify HQ, to get them seeing "green" of a different kind, in the form of increased user subscriptions and revenue.