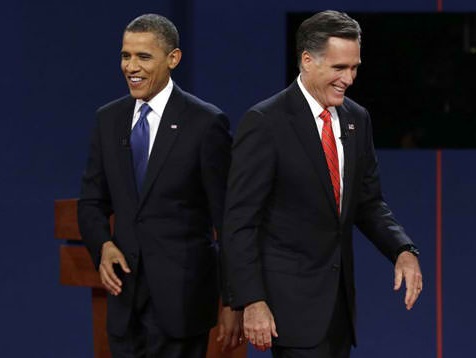 October 16, 2012 marked the third of four presidential debates in line with the US national election in November and, as expected, people took to Twitter to share information and personal comments. The hashtags
#debates
and
#debate
both earned trending status as Democratic party candidate and incumbent US president Barack Obama (
@BarackObama
) and Republican party candidate Mitt Romney (
@MittRomney
) fired at each other on various domestic and international issues, with Candy Crowley (
@CrowleyCNN
), CNN chief political correspondent, moderating. The second presidential debate, held at Hofstra University in Hempstead, New York, adopted a town hall format and was aired live from 9:00pm to 10:30pm EST. Town meeting participants were undecided voters carefully selected by the Gallup Organization.
Obama Bounces Back
Obama's less than stellar performance during the first debate gave Romney extra points for being cool, calm and collected; leading many observers to think that the incumbent president may not be as aggressive with his policies as his opponent. He was somewhat vindicated during part two of the debates, when Democratic vice presidential candidate Joe Biden (
@JoeBiden
) held the fort for the Democrats against Republican VP candidate Paul Ryan (
@PaulRyanVP
). On their second encounter, Obama appeared to be more prepared for an onslaught, resulting in a true-blue heated debate that had many viewers riveted for an hour and 30 minutes. Who won the debate? Observers called it a draw. It was a personal win for Obama, though, who managed to get back in the game and show he can hold his own. Twitter was abuzz, with both hashtags #debates and #debate sharing the trend spotlight. Here's how both fared at 9:00pm when the debates started and at their peak 10:00pm. It appears that netizens have adopted #debate more than #debates, with related hashtags including
#obama2012
,
#romney
,
#obama
and
#debate2012
.
At 9:00PM
At 10:00PM
@bobschieffer
), host of "Face The Nation"?on CBS, will be moderating. Read more about
Part 1 (Obama vs Romney)
and
Part 2 (Biden vs Ryan)
.