1. Post photos
Providing media content
or graphics like a photo or video together with your tweets will attract more potential clients. Social media users, particularly on Twitter, are more inclined to engage with businesses when there are images attached to tweets. These
make the posts more interesting
. Take original photos and share images of the brand in casual settings so you can easily relate your products with the average customer?s daily routine.
2. Start a hashtag
Hashtags are one of the most powerful social media tools today. These allow you to categorically arrange topics so you can find relevant customers easily. Tweet something related to your business or introduce a new product then share the hashtag.
Think of a catchy and specific hashtag
, no more than 2 to 3 words then use the proper capitalization, numbers and spacing to make these readable and easy to understand. Monitor the hashtag and manage the conversations so that people stay within topic. Ask questions and answer inquiries promptly. The US government promoted hashtag
#GetCovered
, in support of Obamacare, is an example of a successful campaign. In the course of one month, the hashtag was able to generate as many as 120,900 tweets and over 630 million impressions , even peaking at 28,600 tweets on October 2.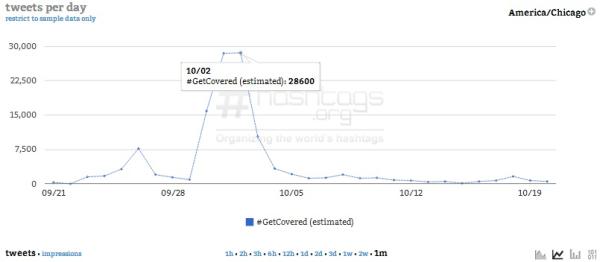 Courtesy of
Hashtags.org Analytics
3. Start a contest
Social media contests
on Twitter generate buzz about a new product or promo. Feature new items then invite users to share a hashtag or post a photo of themselves availing of your products or visiting the store.
Let the contest run for a few days
then provide rewards to the most interesting entries. Continue updating online users about the contest and let them share their comments and opinions on posted entries.
4. Live tweet
Look for big events that are highly related to your industry or business.
Conduct a live tweet
to bring in more loyal followers. People will check in every few minutes or so as you continue blogging about the event. The details should be accurate and reliable. It will help to give them in-depth details that are not available in other sources. Use a hashtag to spread the information and bring in the right people to monitor.
5. Create an interesting profile
Many people spend a few seconds checking others? profile to determine whether or not they should follow you. Use a clear photo for your profile. Preferably, include a photo in a casual setting which will allow people to
relate with you better
. Twitter users prefer to approach those whom they feel have a real personality online. People refrain from adding generic accounts or those that seem to be run by computers or operators. Learn these techniques and observe how your followers and influence grow in the next few weeks.