??by?
?laurieofindy
?
As Thanksgiving Day approaches, avid shoppers are looking forward to a different type of holiday ?
#BlackFriday
, where consumers are treated to an extra sampling of discounts and major deals. The hashtag #BlackFriday was created to keep people posted on the best deals available, as well as the latest news on the rush at different parts of the country. Black Friday, happening the day after
#Thanksgiving
, has become a tradition in the United States. It also marks the start of the Christmas shopping season. Many stores usually open at 4am or even earlier on Black Friday. After Thanksgiving Day dinner, it has become common practice for people to start lining up in front of the shopping sites to be among the first to avail of the great sales and promos. The event is not an official holiday but a lot of employees are actually given the day off to take part in this once-a-year mega sale. The tradition began in 2005 and because of the huge turnout, it has been practiced consistently after. Here's how the hashtag fared on Twitter two days before, as consumer brace themselves for the excitement.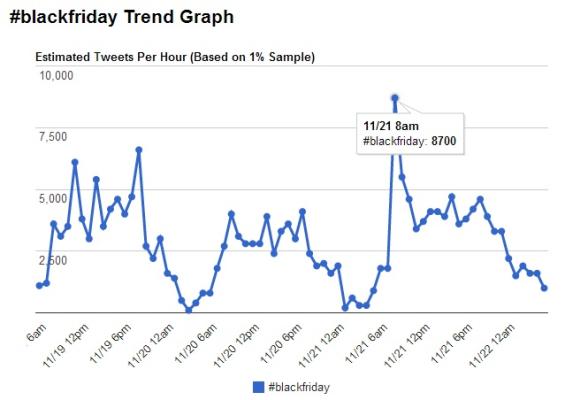 Courtesy of
Hashtags.org Analytics
Here are the most popular hashtags used with #blackfriday, with
#cybermonday
, another major sale event, leading the pack.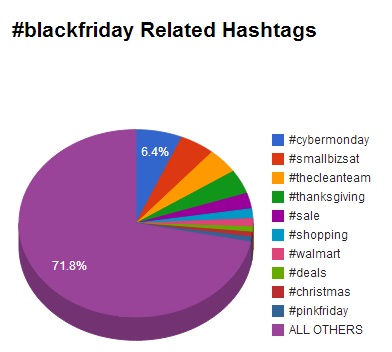 Courtesy of
Hashtags.org Analytics
Media companies have found it very exciting to simply watch people flock in front of major retail stores, with some going as far as camping out the night before. News footages, video coverage, live blogs and other types of information outlets are used to describe the mad rush. These include clothes, DVDs, appliances, shoes, perfumes and other goods offered 50 percent to 80 percent lower than the usual rate.
Shopping Frenzy
In a word, it's shopping mayhem. Many individuals who will be going for the first time cited that they are merely there to experience the buzz and be part of the tradition. Families and huge groups of friends line up outside the stores with coffee in hand and wait until the doors are flung open. Some of the places to watch out for include WalMart (
@WalmartHub
), which will be offering huge iPad and Blu-ray discounts, the Coach (
@Coach
) store, Target (
@Target
), Sears (
@SearsDeals
) and Sam?s Club (
@SamsClub
). At Best Buy (
@BestBuy_Deals
), a 42-inch LCD TV can go down from $499 to $199. Office Depot (
@OfficeDepot
) offers an HP 17.3-inch laptop at only $350. Target offers Nintendo 3DS from $169 to $145, while Toys R Us (
@ToysRUs
) offers $30 to $50 discounts on iPads and other Apple devices. So, how are YOU spending #BlackFriday?