??by?
?
Creative Tools
?
Creating a successful hashtag can be very challenging so if you?ve recently launched one, you have to follow through until it reaches positive engagement and, if lucky, trending status. You can continue
making excellent hashtags
in the future and sell your brand and products better. You also get to increase sales and the total followers you currently have with each successful campaign. Here are some tips on how to follow through after the great trend.
1. Check the hashtag name
Start by observing the recent successful hashtag. Determine how many letters you used, the total number of words, numbers used, capitalizations, spacing and the actual terms used. Many excellent social media marketers use the same formula when coming up with future hashtags. These should always be
clear, readable, easy to remember
and specific to the issue or topic being discussed. One of the basic reasons for trending well is having a hashtag that people immediately think of when pertaining to a certain subject matter. Use the same approach when creating new ones.
2. Compare
Compare the successful hashtag with other hashtags you created in the past. Divide all the hashtags you launched into three, namely successful, average and failure. You can create the division based on the total reach and impressions made as shown in social media analytics. Determine which factors you changed from previous campaigns that made the current one successful. Be specific when making comparisons, such as indicating that you started the hashtag a few hours before a related show was featured on television, using pictures, asking related questions to people who joined or tweeting every few hours or so.
Analytics tools
will help you determine how your hashtag is faring on its first hour, first day or first week, and so on. As an example, see the philanthropic hashtag
#DonateMySmile
and how it's progressed since it started.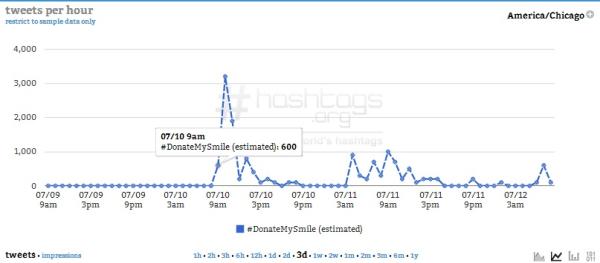 First Hour : Courtesy of
Hashtags.org Analytics

Day One : Courtesy of
Hashtags.org Analytics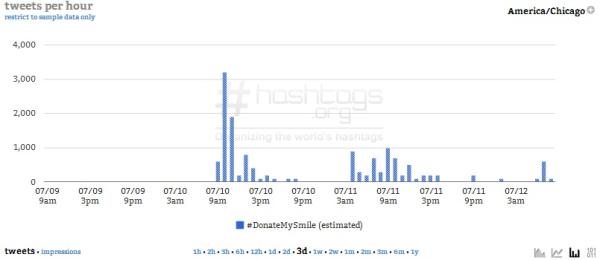 Three Days : Courtesy of
Hashtags.org Analytics
3. Thanking participants
Always make it a habit to
thank individuals who joined the hashtag
and were very engaging during the conversation. Share or retweet some of their relevant posts. Tag them as necessary when declaring winners in contests or days after to show your appreciation. It is also common courtesy on social media to join the hashtags that these relevant users create. Share your own information and display rich content regularly for others to look forward to your own hashtags.
4. Follow key followers or users
Target some of the most
relevant users
who joined the conversations. Check their profile then determine how many followers they have and if their interests and activities match your social media objectives. These online leaders will be useful in spreading information about your future hashtag campaigns. They can
retweet and share information
to a large number of people, thereby increasing the likelihood of your conversations being well-attended. These people can also share important information and updates that will encourage healthy exchanges during the course of the hashtag. You will trend better with these key persons around.
5. Prepare for the next one
List down all the
pros and cons
of the previous hashtag. Be consistent on your strengths in trending well and use the same strategy until the target audience changes its response. As for the weak areas, look for suitable alternatives and start engaging online users by using good quality content and providing media materials like photos, links and videos as necessary. Also indicate your objectives for creating the hashtag so you can use the right tools and features online to keep the trend going for several days. Observe the graphs and charts on social media analytics and prepare for the right time to launch. Read more on the
Dos and Don'ts of hashtags
. You will realize and appreciate the power of hashtags when launching these the right way every time.